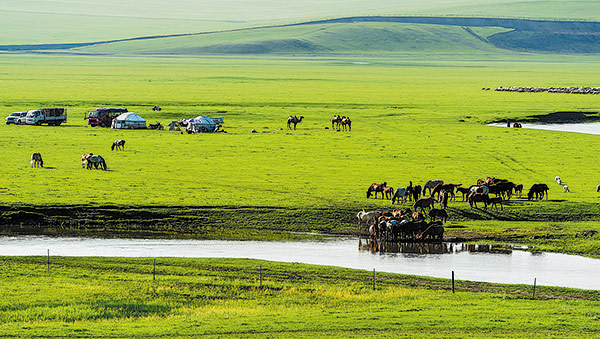 A grassland view in Hulunbuir, Inner Mongolia autonomous region. [Photo/Xinhua]
As the first post-pandemic summer vacation has arrived, new experiences have sprung up for the Chinese travelers who are straining at the leash to travel.
Although the Ministry of Culture and Tourism allowed trans-provincial group tours after COVID-19 was brought under control in China on July 14 last year, the summer travel market didn't rebound as much as expected due to various factors.
Travelers' concerns toward sporadic cases of the virus, along with strict, and sometimes, complex pandemic control measures, such as reduced capacities at scenic spots and precautionary restrictions on student travelers, saw demand fall.
As the domestic situation continued to improve, and the administration of over 1.65 billion doses of COVID-19 vaccines across the Chinese mainland as of July 25, the tourism market had been showing all the signs of a return to normal service.
However, a resurgence of COVID-19 cases has put somewhat of a dampener on that enthusiasm.
The number of local infections in Nanjing, Jiangsu province, has grown to over 200 people since July 31 and sporadic related cases have been recorded in Anhui, Guangdong, Hunan, Liaoning and Sichuan provinces as well as the Inner Mongolia autonomous region and the country's capital, Beijing.
The Ministry of Culture and Tourism has urged people to strengthen personal protection measures during their travels.
Major online travel agencies, including Trip.com, the country's largest online travel group, have also offered full refunds for trips booked for the period of July 26 to Aug 11 to destinations that are currently rated medium- and high-risk.
So far, there have been no reports of mass cancellations to regions with lower risk areas.
The number of traveler visits to domestic destinations for July and August was expected to reach 120 million, basically reaching the level of that in 2019, according to forecasts by online travel agency Tongcheng-Elong.
The number of people traveling by train was set to rise by 60 percent compared with the same period last year, according to the agency.
The public's enthusiasm and desire to travel after a restrictive 18 months is evident from the trans-provincial tour bookings made for the summer season (July 1-Aug 31) through Trip.com.
The figure has surged more than 400 percent over last summer, Trip.com reports.
College students' per capita spending on summer trips has reached about 2,500 yuan ($386), up 42 percent year-on-year and many are showing a preference for sites that beat the summer heat, according to the Shanghai agency.