The three astronauts who blasted off on a historic space station-building mission in June returned to their home planet Friday, marking the longest time that taikonauts have spent in space.
After spending just over 90 days in Earth's orbit, Nie Haisheng, Liu Boming, and Tang Hongbo parachuted into the Gobi Desert in the northern Inner Mongolia Autonomous Region at about 1:30 p.m. Millions of people watched the historic event live online to get a glimpse of the three men successfully returning from their mission — China's first crewed space voyage since 2016.
As the door to the return capsule opened, the three men were lifted out of the spacecraft and waved to the crowd. They will be whisked to Beijing by helicopter for their first Earth-bound dinner in months before undergoing a one-week medical observation, state broadcaster China's Central Television said.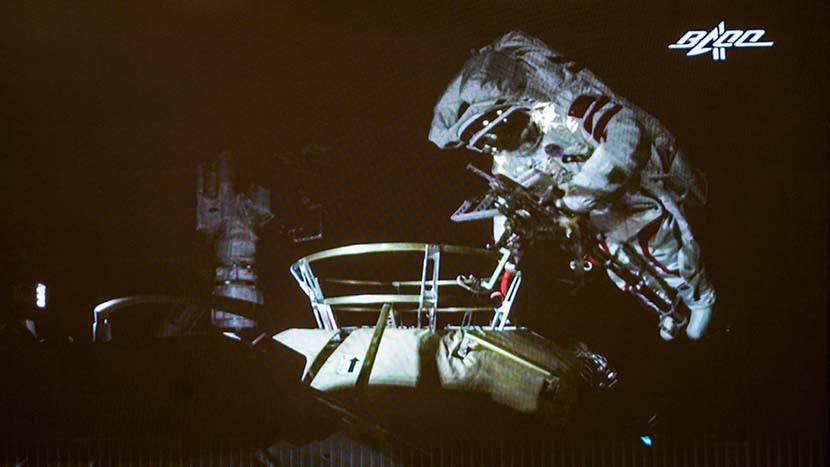 Liu Boming during a spacewalk, July 4, 2021. People Visual
"I'll never forget this birthday," Liu, who turned 55 Friday, told CCTV after landing. "The vastness and beauty of the universe is fascinating, and I was fortunate and happy to fly to space again and perform a spacewalk outside our own space station. I will continue to strive to fly higher, farther, and longer."
Tang, the youngest of the trio, sent a message on live TV to his parents in the central Hunan province, saying: "Dad, mom, I'm back. I'm in good health, good spirits — very good."
The trio embarked on the mission, dubbed Shenzhou-12, to construct the Chinese space station Tiangong — or the "sky palace" — on June 17. Their spacecraft docked with a module of the space station, scheduled to be completed in 2022, less than seven hours after blasting off from the Jiuquan Satellite Launch Center in northern China.
Once they arrived, the three men performed a series of tasks at the space station, including two spacewalks, and frequently communicated with people below via short vlogs, sharing snapshots of their life in the outer world.
During the spacewalks, the astronauts installed a variety of equipment outside the space station and adjusted the angle of the panoramic camera used to take pictures of Earth. The two tasks are said to have proven the functionality of China's new generation of extravehicular space suits, paving the way for similar activities in the future, according to China Manned Space Agency.
On the eve of the astronauts' return, video released by CCTV showed the trio saluting the ground control staff and those who supported the space mission. Industry analysts touted the voyage as "a big moment for the Chinese space program" that will bolster the country's ambitious space program.
Following the return of its taikonauts, China plans to launch a cargo spacecraft to its space station later this month, followed by another crewed mission — dubbed Shenzhou-13 — in October. The three astronauts for the upcoming mission plan to spend six months in space.