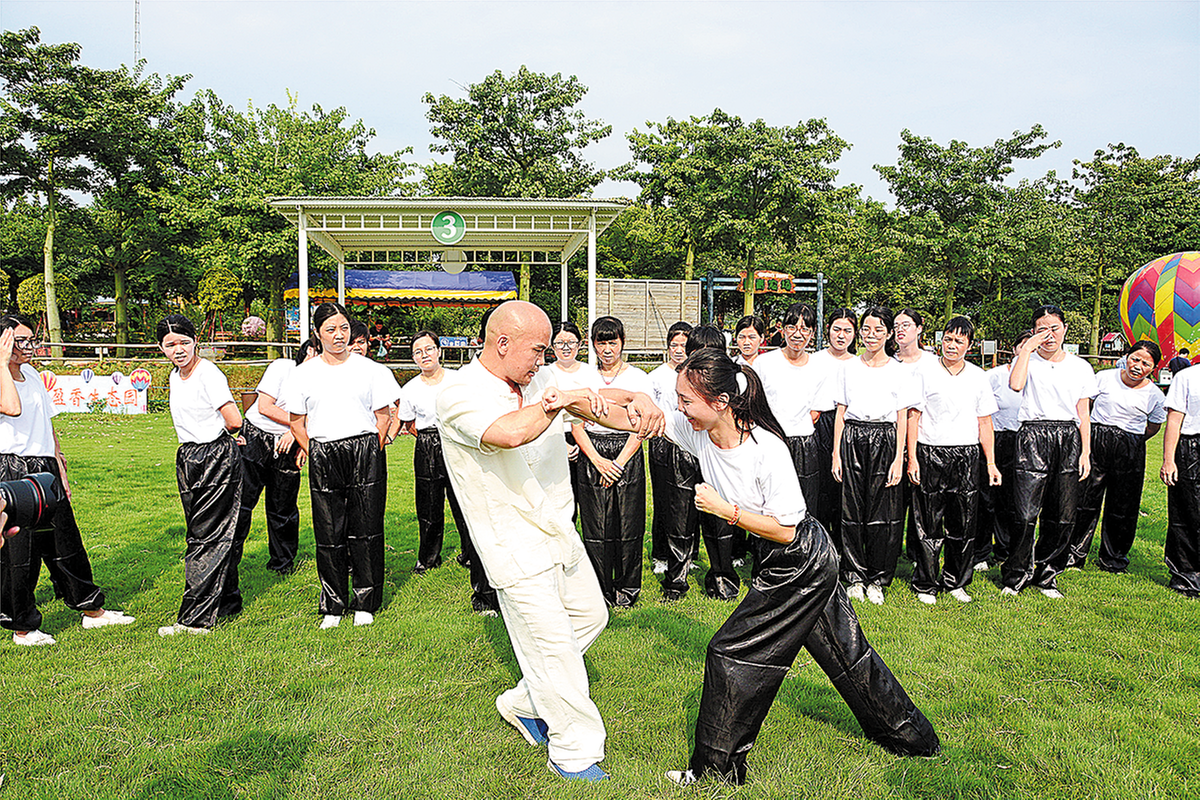 Female employees at a scenic spot in Foshan, Guangdong province, learn martial arts in order to protect themselves. ZENG LINGHUA/FOR CHINA DAILY
Sexual assault case shines spotlight on business drinking culture
A recent sexual assault scandal involving internet giant Alibaba has sparked a new round of public debate.
Discussion centers not only on removing the stigma often attached to women, but also on the deeply entrenched drinking culture among the business community.
A female Alibaba employee recently accused her manager and one of the company's clients of sexual assault.
The employee released details of the alleged incidents in an internal post, stating that she was forced to drink too much alcohol at a business dinner and was later assaulted by the pair.
She said she complained to Alibaba's human resources department, but was ignored. The employee then distributed letters in the canteen at Alibaba's headquarters in Hangzhou, capital of Zhejiang province, describing the alleged assault. The letters triggered widespread public attention.
In an 11-page post uploaded on Aug 7 to the internal message board at Alibaba, the employee recalled details of the dinner, which began like many others with copious amounts of alcohol.
"When I arrived for the meal, my manager told the client: 'Look how good I am to you. I brought you a beautiful girl'," she wrote. "I was forced to drink too much alcohol, and the last thing I remembered that night was crying while my manager lay on top of me."
On Saturday, police in Jinan, Shandong province, released a partial investigation report on their social media account, confirming the two men had committed an obscene act. Police said the investigation is continuing in order to determine whether more-serious offenses, such as rape, were committed.
Alibaba has fired a manager accused of sexual assault. The company's client, a staff member at Jinan Hualian Supermarket in Shandong, has also been fired, the supermarket said. Alibaba's chief human resources officer Tong Wenhong was given a demerit penalty for her team's negligence in dealing with the allegations.