In Datong, a city in the northern Shanxi province, containers mounted with coal are being loaded into cargo trains to secure energy supplies in coastal provinces.
The bustling scene from one of China's coal hubs underscores the steps local authorities are taking to ship the direly-needed fossil fuel to overcome an energy crunch that has left industries short of power and residences in darkness. The looming winter, which experts say is likely to be colder due to the La Niña effect, is proving to be another challenge in the country's coal-cutting goal.
The challenges have prompted the Chinese government to take extraordinary measures, with the country's top economic planning agency, the National Development and Reform Commission, stepping in to rein in sky-high coal prices starting mid-October. China also temporarily reverted its agenda to cut its reliance on coal, approving additional 153 coal mines to increase an estimated 220 million metric tons a year of extra coal.
That move has raised eyebrows at home and abroad, worrying environmentalists over its impact on China's climate goals. Experts said it could hamper the ongoing carbon reduction momentum — China plans to peak carbon emissions by 2030 — as world leaders gather for the United Nations Climate Change Conference, or COP26, in Glasgow over the next few days.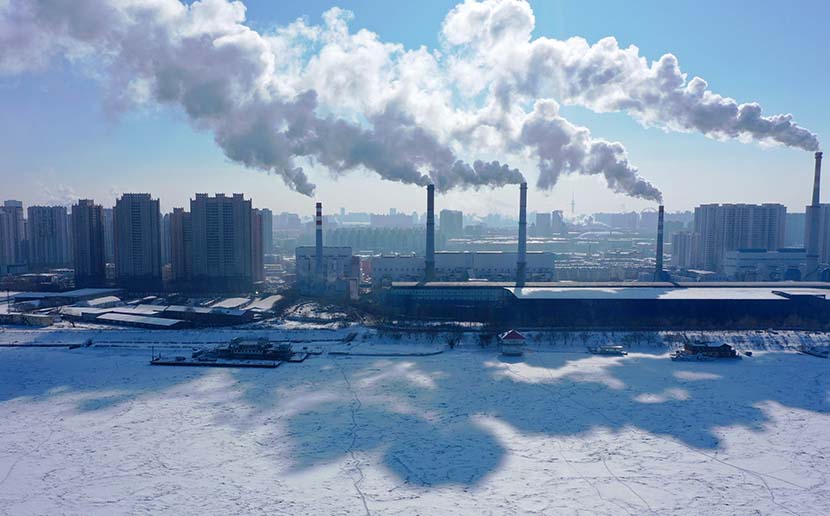 Several large chimneys run at full capacity to ensure heating in Harbin, Heilongjiang province, Feb. 8, 2021. People Visual
"The growth of fossil fuel use this year is a foregone conclusion," Yang Fuqiang, senior adviser on climate and energy at the National Resources Defense Council, told Sixth Tone, adding China's carbon emissions are expected to rise this year due to the significant rebound of coal use. "I don't think the rebound will continue for long or it should be interpreted as a joke ahead of COP26. But it does show that carbon reduction is an arduous task."
Coal powers almost two-thirds of China's electricity generation, though the country is accelerating the use of renewable sources in its energy mix. But lower coal inventories and market imbalance over the past months, which saw a tipping point in September, resulted in one of the country's worst blackouts in recent memory. That caused a knock-on effect to supply chains and worried workers over declining wages and their health due to irrational working hours at night.
The recent power crisis highlights the challenges in China's transition from the world's largest producer, importer, and consumer of coal to cleaner forms of energy. Coal accounted for 56% of China's primary energy use last year, down from 69% in 2010, yet still more than double the global average of 27%.
This means China would need more than 90% of electricity coming from non-fossil sources and control its coal consumption to just around 400 to 800 million tons annually by 2050 to achieve its carbon-neutral goals the following decade, according to modeling analyses.
An aerial view of solar panels in Dunhuang, Gansu province, Aug. 12, 2020. People Visual
Ahead of COP26, on Thursday, China updated its Nationally Determined Contributions, spelling out promises largely in line with the country's previous pledges. They included improving the installed capacity of solar and wind power and elevating the share of non-fossil fuels in primary energy use to around 25% by 2030.
But to achieve its climate goals, China requires a deeper reform of its power sector, pricing mechanism, as well as boosting electricity storage solutions, Yuan Jiahai, professor at North China Electric Power University, told Sixth Tone. He said the reform will help "guide" more use of new energy power sources and improve energy consumption per unit of gross domestic product, or GDP, otherwise known as energy efficiency.
The increased coal inventories can only ensure a "tight" balance of coal consumption to meet the heating and power demand through to next spring, Yuan added.
In the central government's view, achieving that balance to meet a set of demands — including energy and food security, while becoming wary of social risks during its carbon reduction process — would be akin to "playing a national game of chess." To further avert a power crunch and limit its dependence on coal, China recently pledged to reform the country's electricity network, allowing a steady use of new energy sources.
"The current situation may be more inseparable from coal in the short term," Yuan said, adding that a deepening market reform could help phase out coal, also the most expensive power source, naturally. "But (recent developments in the power sector) actually forms a centrifugal force that will accelerate the departure from coal power in the medium and long term."