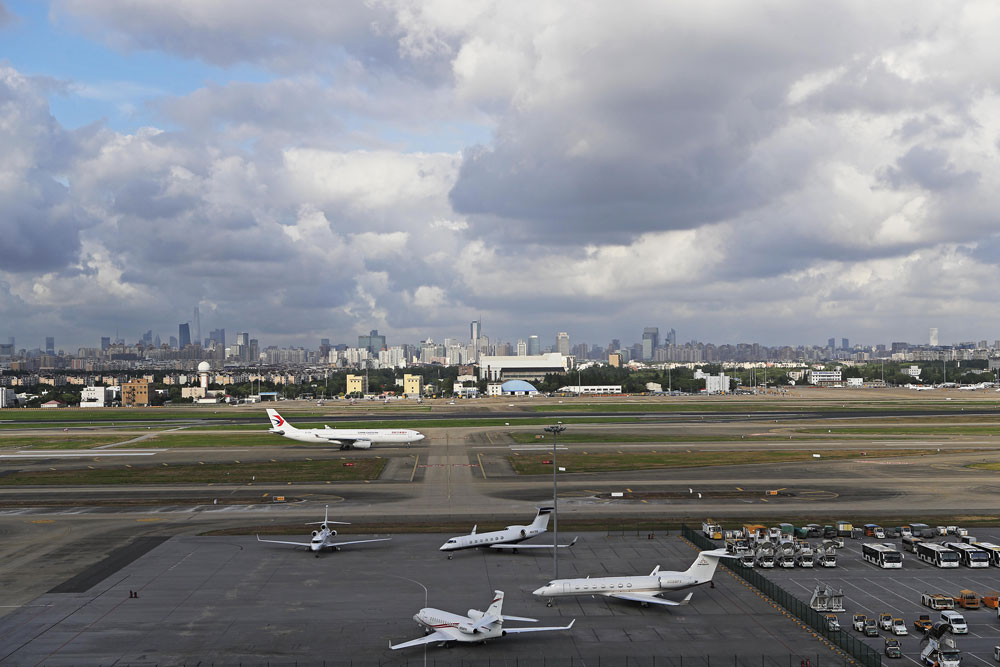 Shanghai Hongqiao International Airport. [Photo by YIN LIQIN/CHINA NEWS SERVICE]
All the passenger flights at Shanghai's two airports were canceled on Monday as Typhoon Chanthu is forecast to go through or make a landfall at the eastern coastal region of the municipality between Monday evening and night.
Shanghai first issued a warning for typhoon and rainstorm on Sunday. The city's meteorological authority said that the accumulated rainfall from Monday to Thursday is expected to be between 200 and 400 millimeters. The heaviest rainfall in an hour can reach 50 to 80 millimeters.
Chanthu, the 14th typhoon this year, was at the northern region of the East China Sea at 9 am Monday and was moving northwest at the speed of 15 to 20 km per hour. It is expected to go through Zhejiang province's Zhoushan islands at Monday noon.
Shanghai authorities have ordered all kindergartens as well as primary and middle schools to be suspended from Monday afternoon through Tuesday. Parks, outdoor scenic spots, sports stadium and large amusement parks, including the Shanghai Disney Resort and Shanghai Haichang Ocean Park, will also be closed on Monday and Tuesday.
Nearly 600 trains leaving and arriving in Shanghai on Monday have been canceled. Five of the city's metro routes or sections that run above the ground at coastal regions were suspended on Monday as well.
A total of 28,000 residents living in the city's coastal regions have been relocated to safe venues by 6 am Monday.