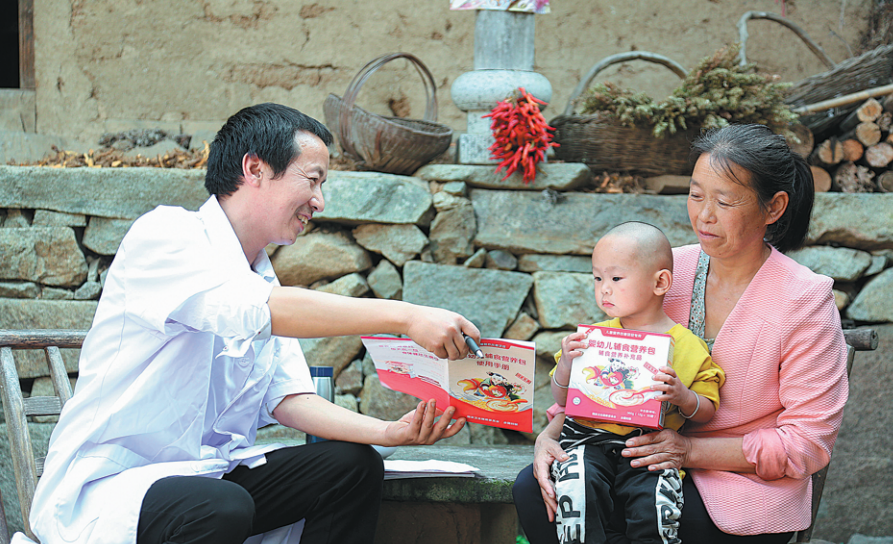 A rural doctor introduces the Ying Yang Bao Program, or Fortified Complementary Food Supplement to Song Junxuan and her grandmother in Lushi county, Henan province. CHINA DAILY
China's lowly paid rural doctors, long subject to prejudice due to their perceived lack of professionalism, are set to benefit from central government moves to improve their remuneration and social status.
Fifty-year-old grassroots doctor Wang Peigen has plenty of complaints about his job at a town-level clinic in Jixi county, Anhui province.
"The villagers distrust us grassroots doctors, think that we can't cure their diseases, and often seek treatment from higher-level hospitals even just for a cough," he said. "It's understandable, as the medical facilities at the rural hospital are inferior."
The poor pay also frustrates him.
"My wage is much less than those working at a county-level hospital, and there is a lack of opportunity for honors or promotions," Wang said.
Meager salaries, insufficient supporting policies and bleak promotion prospects have left China with a growing shortage of grassroots medical personnel.
A report by the National Health Commission in June last year said the nation only had 792,000 grassroots doctors in 2019, down by 231,000 from 2012. The number of village-level clinics also declined. The report said that by the end of 2019, there were 616,000 clinics in the nation's 533,000 villages, 120,000 fewer than in 2012.
"I've never thought about working at a grassroots clinic, it's not practical for me," said Tao Rujia, a medical student at Tongji University in Shanghai.
"The payment at the grassroots is unlikely to meet my material needs," Tao said. "It's not beneficial to my future development either."
She said that while the tough working conditions at grassroots clinics discourage doctors from working there, rural residents' needs for medical resources remain high.
To improve the situation, the central government launched a guideline in late February focusing on the modernization and vitalization of rural areas. Improving rural healthcare was one area emphasized in the policy.
According to the guideline, doctors earning degrees from vocational colleges will be encouraged to work in rural areas and some large hospitals will be required to help improve the services of rural clinics by sending doctors there or organizing diagnostic tours to such areas.
The policy has been accompanied by action in Jiangsu province. Its provincial health commission released a guideline in February that said some of its cities would give more financial support to rural healthcare.
In Qidong, Jiangsu, medical graduates who sign work contracts with rural clinics will be given 100,000 yuan ($15,400) after they get certificates that allow them to practice medicine. The city will also give them a 100,000 yuan housing allowance.
In addition, rural doctors in Qidong will be able to register for selection exams for higher-level hospitals after finishing three years of service in rural clinics, the guideline said.
Tang Xudong, vice-president of the China Academy of Chinese Medical Sciences, told Health Times that moves are afoot to improve the training and management system for grassroots doctors, and to improve their pay to make them more willing to remain at grassroots clinics.
He suggested the nation explore plans to nurture more rural doctors through vocational education, and said cooperation between city-level hospitals and rural clinics should be encouraged, with the evaluation and promotion system for young doctors more closely related to job rotations at grassroots clinics.
Hu Haihui, a rural doctor in Dingnan county, Jiangxi province, said he has gained a sense of security after working at a town-level clinic since last year. The 46-year-old ran a private clinic in Dingnan's Muyang village for 25 years but shut it down last year due to the village's decreasing population.
"I used to earn roughly 4,000 yuan a month running my own clinic," Hu said. "But now the town-level clinic gives me over 5,000 yuan a month, including stable insurance coverage.
"The weekly training in medical skills and facilities management organized by the clinic also improves my capabilities."