As China increases parental leave in an effort to encourage having children, employers and parents in Shanghai say it could be getting harder for mothers to return to work.
An eight-year study showed that mothers find it harder to find jobs as they have children.
The survey, conducted by researchers Wang Jun and Shi Renbing at the Huazhong University of Science and Technology with more than 7,600 respondents in 25 provinces between 2010 and 2018, showed that women who seek to return to work after having a child see their chance of finding a job fall by 6.6%, and another 9.3% after a second child. According to the survey, this impact is more apparent among families with low or medium incomes. The study did not examine the causes of the change.
In 2010, China ranked first in the World Bank's measure of female labor force participation, at 73%. But as the country gets wealthier, a growing number of families count on a single breadwinner. The female labor force participation rate had decreased to 59.8% by 2020, while the ratio for men was around 70%.
Another recent study showed that both men and women see their wages drop after they become parents.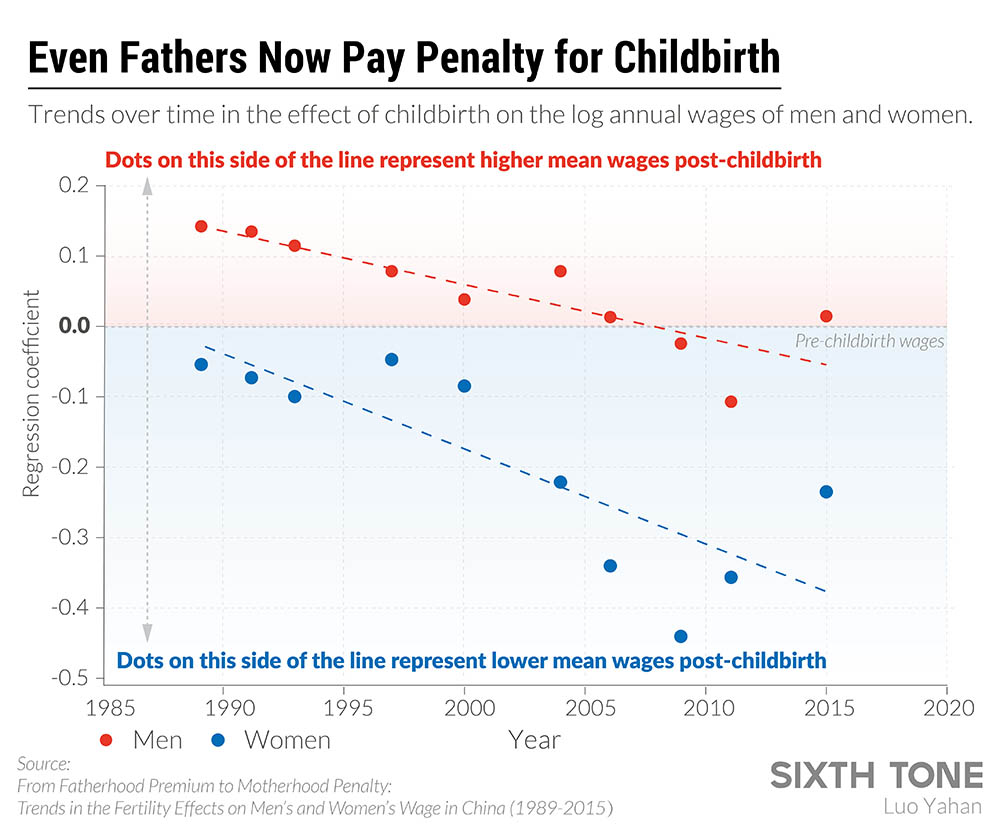 People involved in hiring in Shanghai told Sixth Tone that recent policies extending maternity leave have made them reconsider hiring women with children, particularly young children.
"The extended leaves mean additional costs for us. We'll definitely be more cautious when hiring a female employee," said a human resources manager with a private company surnamed Wei.
A headhunter in the city, Lu Xiaoling, said her clients had expressed preferences for male candidates when they want ambitious employees or expect staff to travel frequently on business. "The time and energy that women with one or more children can spend on their jobs will definitely decrease compared with when they're childless," Lu told Sixth Tone.
"Their life focus will naturally shift to the family and their kids — they'll be less dedicated to their jobs or less ambitious in their career. This is understandable, but employers need to calculate the output of their staff. It's realistic."
Chinese law bans gender discrimination, but such practices continue.
In late November, Shanghai announced a policy to prolong paid maternity leave by 30 days, entitling women to 158 days off after having a baby.
China's lawmakers revised the country's Population and Family Planning Law in August, directing regions to offer both parents parental leave if local conditions allow. The revised law also promises that the country will guarantee the legal employment rights of women, including providing jobs for mothers who cannot find work.
Many provinces and municipalities have extended maternity leave. In addition to Shanghai, the provinces of Jiangsu, Jiangxi, and Hubei extended maternity leave by 30 days, while Beijing and Shanxi province said they'd extend it by 60 days.
In Shanghai, parents of a child under 3 years old are entitled to five days of paid parental leave per year, while in Sichuan and Zhejiang provinces, parents enjoy 10 days of parental leave every year until their child is 3 years old. In Anhui province, parents get 10 days per year until the age of 6.
"These are all well-intentioned policy adjustments but they'll not necessarily make women more optimistic about our career prospects if we want to have a second child," said Qin Lanlan, a 37-year-old with a single child. "I'm still trying to strike a balance between work and family even though my child is about to turn five. It's not easy."
Shanghai mother Feng Yuanlu quit her job after finding herself pregnant with a second baby in 2018, and said it's hard to imagine going back to work. "After having my first child, I already felt detached from my former co-workers, who were mostly young and single. The focus of our lives was different," the 41-year-old told Sixth Tone.
"Now with two children to care for, I can't think of any job that I can handle easily. It just scares me thinking about going back to the workplace — taking care of the two children already occupies most of my time and energy."