Alibaba supermarket chain Freshippo announced plans Tuesday to invest in 1,000 "Freshippo Villages," committing to spend 100 billion yuan ($15.7 billion) ordering produce from farmers in those villages.
The name echoes Alibaba's "Taobao Villages," cottage industry centers that have grown up to supply the vast e-commerce platform.
"The company will screen high-quality projects in Freshippo Villages, build warehouses and processing centers around Freshippo Villages, and explore agricultural industrialization with local partners," a company spokesman told Sixth Tone.
The company said the plan is a response to the country's 14th five-year plan (2021-2025), which targets modernizing agricultural sectors. Experts say it is also a move to build competitive and sustainable sourcing channels.
"E-commerce companies worldwide are trying to crack the code for successful fresh groceries, and building direct supply relationships with farms has been a big part of that just about everywhere," Even Pay, an analyst covering agriculture at strategic advisory firm Trivium China, told Sixth Tone.
Freshippo is the e-commerce giant's most successful play into offline retail. It combines premium grocery shopping, headlined by cornucopian fresh seafood displays, with fast delivery. It currently claims just under 300 locations in China.
Big tech's foray into agriculture is part of a grocery tug-of-war that has lasted for years. Both startups and established tech majors have invested millions in grocery delivery services, as well as hybrid models like Freshippo.
E-commerce companies like JD and Pinduoduo also have similar rural programs, building their own farms or fostering direct relationships with farmers.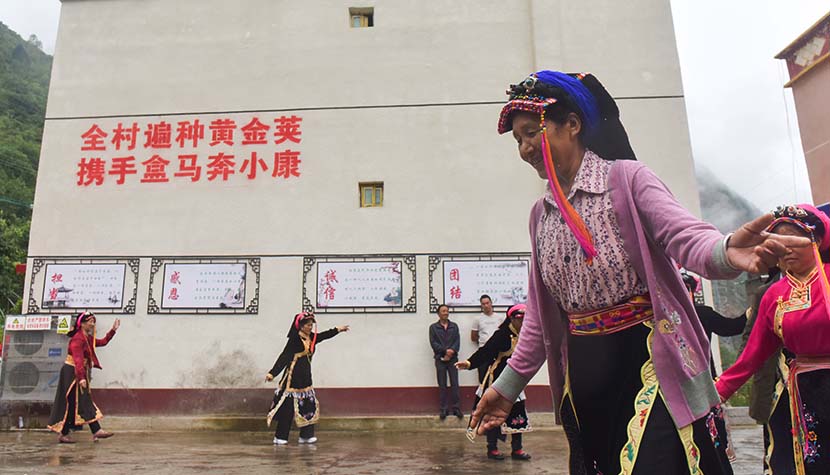 Women dance in Bake Village, the first Hema Village, Dandong County, Sichuan province, 2019. Courtesy of Hema
Lizhi Liu, an assistant professor of business at Georgetown University, told Sixth Tone that sourcing directly from villages would help companies in the grading and standardization of agricultural products, and fast delivery.
"Selling agricultural products out of the village is difficult," Liu said. "Standardization and transportation of agricultural products are two major obstacles to the sales of agricultural products. This is why platform companies need to take a more direct and active role in the supply chain to ensure quality control."
The company started to test the Freshippo Village model in 2019. Up to now, there are 136 Freshippo Villages nationwide, covering 19 province-level regions, including Sichuan, Zhejiang, and Shanghai. When collaborating with local farms, the company uses the model of "order-driven agriculture" to inform farmers in time of the market demand derived from the big data analysis.
"Digitizing agriculture is in line with China's 'common prosperity' drive. Alibaba recently pledged $15.5 billion to this drive. But even before this, Alibaba has spent tremendous resources on the rural areas," Liu said. "The Freshippo Villages program is not coming from nowhere, but part of a series of rural investments Alibaba has made over the past decade."
For years, Alibaba has worked to penetrate rural places in China by holding itself out as a job-creation engine. In 2018, the company claimed that "Rural Taobao," an Alibaba-backed program started in 2014, had connected more than 7,000 villages across China to the online market.
Zhang Wenxiao, a sociologist specializing in rural e-commerce told Sixth Tone that many previous rural e-commerce platforms did not succeed in making it easier for farmers to sell local products elsewhere. More often, rural users just wound up buying more stuff online. "Programs like the Freshippo Villages can serve as a complement to previous rural e-commerce programs like 'Rural Taobao' in terms of facilitating two-way trade between China's remote regions and urban areas."
However, Zhang suggests, in the long term, e-commerce companies' control of the upstream supply chain of agricultural products can be a mixed blessing for farmers.
"It seems to have an immediate effect in increasing profitability for farmers by cutting out middlemen, but it's hard to say they are no longer in a vulnerable position," Zhang said. "Farmers can still lose their agency if the production process is controlled by capital and there is only one sales channel."
The company spokesman told Sixth Tone that farmers and agricultural companies are free to sell a surplus elsewhere after fulfilling the quota they promised the supermarket.
The key challenge for the grocery company, experts said, is the complexity of China's agriculture system, with its millions of small farms.
"Freshippo can't just partner with a few corporate megafarms because for the most part of China those don't exist. "They're having to go out to the village level and work with the farming structure as it really exists here," Pay said.