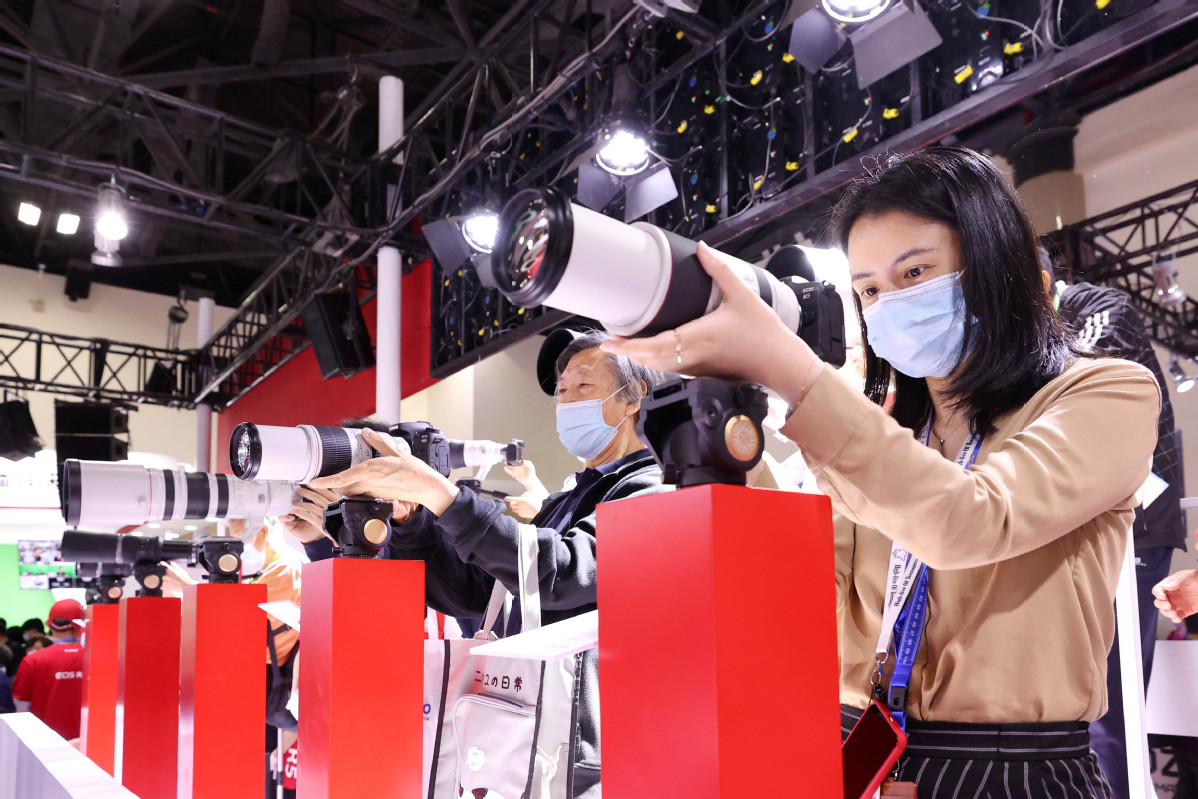 Visitors check out Canon cameras and lenses at an exhibition in Beijing in May. CHEN XIAOGEN/FOR CHINA DAILY
Japanese tech giant Canon Inc will increase its investment in research and development in China and ramp up efforts in bolstering localized innovation capacity in a bid to bring digital, intelligent and advanced technologies, products and services to the world's second-largest economy.
China's sizable market, stable consumption capacity and huge development potential have drawn great attention from investors, said Howard Ozawa, president and chief executive officer of Canon China. He noted the impact of the COVID-19 pandemic on the economy is gradually weakening, thanks to the Chinese authorities' timely and effective measures to control the contagion.
"China's economy will remain strong in the future. The rapid recovery and growth of the Chinese economy have not only injected confidence and hope into global economic recovery, but also stimulated enormous demand from domestic market," said Ozawa, adding he has full confidence in Canon's future development in China.
Data from the National Bureau of Statistics showed China's gross domestic product expanded 12.7 percent year-on-year in the first half of 2021 as recovery continues to consolidate, and the country's GDP rose 7.9 percent in the second quarter from a year earlier.
Ozawa said Canon attaches great importance to the Chinese market, and China's new dual-circulation development pattern, which takes the domestic market as the mainstay while letting domestic and foreign markets reinforce each other, will bring about a series of new opportunities for foreign companies, including Canon.
In addition, the country has been expanding opening-up in a larger scope to wider areas and at deeper levels and demonstrating to the outside world it is unswervingly committed to supporting economic globalization and transnational investment, he added.
"Along with China's rapid development in industrial upgrading and digital transformation, Canon will pay more attention to research and development in the Chinese market, increase its investment continuously, and provide comprehensive intelligent products, solutions and services catering to the markets' demands," he explained.
At present, the digital economy is booming across the globe. In China, new industries and forms of business buoyed by digital technologies such as big data and artificial intelligence are also flourishing.
China's digital economy was worth nearly $5.4 trillion last year, ranking second in the world. That represented a year-on-year growth of 9.6 percent, the fastest in the world, according to a white paper released by the China Academy of Information and Communications Technology.
Sensing the huge growth potential of digital technologies and innovative applications, Canon is accelerating efforts to promote the digital transformation and upgrading of traditional products and services, and make use of digital service methods to help stimulate consumption, Ozawa said.
He added the company has already integrated artificial intelligence, cloud computing, the internet of things and other advanced digital technologies into various business fields like high-definition digital imagery, healthcare, security monitoring and printing, to meet the needs of the digital era.
Furthermore, Canon showcased its new technologies, products and solutions in various fields, such as imaging application, intelligent office, commercial printing and education at the 2021 China International Fair for Trade in Services, held in Beijing from Thursday to Tuesday, in an attempt to explore more possibilities in business cooperation.
It also hopes to recommend the excellent technologies and solutions developed in China to the whole world during the fair, which will create an opportunity for Canon to have an in-depth understanding of Chinese clients' demand for digitalized applications in the service trade sector, Ozawa said.
In addition, Canon will adjust its strategy accordingly and continue to bring products that are suitable for the Chinese market and satisfy the needs of Chinese consumers, he added.
China's huge consumption market is attracting enormous volume of foreign investments, said Zhang Jianping, director-general of the Beijing-based China Center for Regional Economic Cooperation.
Moreover, the implementation of a new round of opening-up measures, such as the Foreign Investment Law, shortened negative list for market entry, and pilot free trade zones, have created favorable conditions for foreign businesses to invest in the world's second-largest economy, he added.