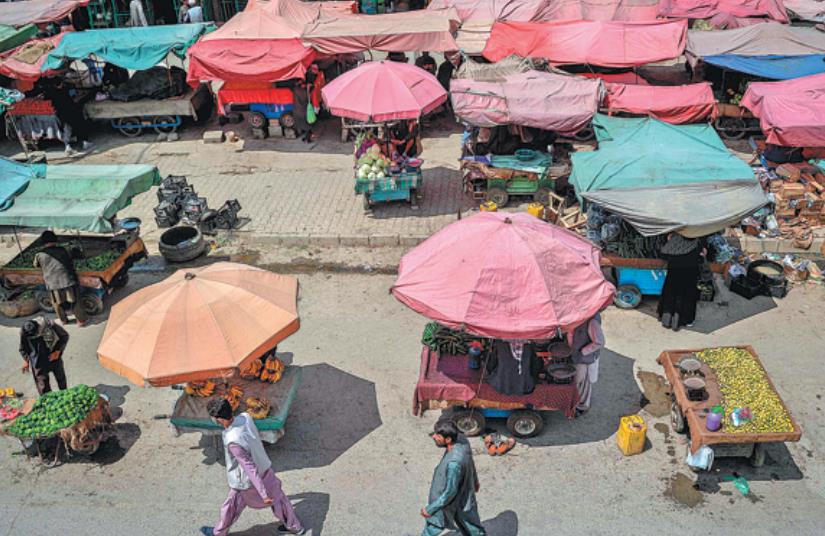 Afghans visit a market in Kabul on Tuesday as the city returns to normal, after the Taliban seized control of the capital on Sunday following the collapse of the Afghan government. AFP
Military intervention and power politics doomed to fail, FM says
Beijing had discussions with Washington and Moscow over Afghanistan on Monday and urged the building of an "open and inclusive" political architecture in the war-torn nation, facilitation of reconstruction and preventing the growth of terrorism.
In separate phone calls with United States Secretary of State Antony Blinken and Russian Foreign Minister Sergey Lavrov, State Councilor and Foreign Minister Wang Yi said the Afghanistan situation shows that military intervention and power politics are doomed to fail.
Drastic changes have taken place in the Central Asian nation in recent days as the Taliban took control of the country after seizing Kabul, the capital, on Sunday.
Officials and experts said the developments in Afghanistan are the fallout from Washington's Afghan policy failure and its hasty military withdrawal, which show that double standards over counterterrorism stoke chaos and dampen hopes of eradicating terror.
"Lessons should be learned," said Wang, noting that a regime will not last long without the support of its people. He added that power politics and military operations trigger problems rather than resolving them.
Su Xiaohui, deputy director of the Department of American Studies at the China Institute of International Studies, said, "Behind the developments in Afghanistan is the US' deep-seated security and foreign policy mistake, which is its longstanding preference to impose its will and intervene in other nations."
In an interview with China Central Television on Monday, China's Ambassador to Afghanistan, Wang Yu, urged Chinese nationals remaining in Afghanistan to beef up security precautions and leave the country when conditions permit.
As an advocate of political settlement in the country, China has consistently respected the will of and kept contact with all parties in Afghanistan, including the Taliban, Foreign Ministry spokeswoman Hua Chunying said on Tuesday.
Yue Xiaoyong, the Chinese government's special envoy on Afghanistan, is playing a mediating role, visiting a number of countries including Qatar, Russia, Turkey and Iran to discuss the situation, Hua said.
Over the past 40 years, Afghanistan has suffered great damage, including from the armed intervention by the US, and "its future government is faced with the arduous task of reconstruction of the war-torn land", said Xu Yicong, a researcher at the China Foundation for International Studies and a former ambassador to Cuba.
China has honored its nonintervention principle and never meddled in its neighbor's internal conflicts, which has won it respect from various parties, Xu said.
In his talk with Lavrov, Wang Yi said the Taliban is being encouraged to follow a mild religious policy and work with all parties in the country to build a political architecture of "openness and inclusiveness".
The new regime in Afghanistan should "draw a line from various international terrorist groups" and restrain and crack down on terrorist forces, including the East Turkestan Islamic Movement, he said.
Wang said China and Russia should brief each other on developments in Afghanistan and ensure the safety of their citizens and agencies. Lavrov said Russia is ready to compare notes with China over the evolving situation and make a joint response.
"This shows the shared priority placed by China and Russia over the security black hole left by the US' hasty withdrawal, as well as their high-level strategic coordination in regional, global issues," said Su, the CIIS scholar.
Wang told Blinken that Beijing is willing to communicate with Washington to push for a "soft landing" of the Afghanistan issue. He also criticized the previous US administration for removing the ETIM from a list of terror organizations last year.
This was "a dangerous and erroneous move", Wang Yi said as he urged Washington to remove obstacles for China-US collaboration on Afghanistan and fighting international terrorism.
Blinken reiterated the US' opposition to any form of terrorism and added the US does not want turbulent situations in the western border areas of China.
The developments in Afghanistan again showed the importance of constructive and pragmatic collaboration between the US and China on regional security issues, he said.
Wang told Blinken the US "should not rely on China for support and coordination when it is sparing no effort in containing and repressing China" as this approach doesn't work for interaction between any countries.
The US should show respect and explore a path for peaceful coexistence between the two countries, Wang said.
He urged the US to follow a reasonable, pragmatic policy, respect China's core interests and major concerns, step up dialogue and manage and control divergence in order to get ties back on track.