The city of Haiyang in the eastern Shandong province has become the first to fully heat its homes using nuclear power, making it the only "zero carbon" city in China, state broadcaster China Central Television reported Tuesday.
The two nuclear reactors powering Haiyang is said to be the world's largest nuclear project to cogenerate electricity and heat, and has the potential to replace 12 local coal-fired boilers and save 100,000 tons of raw coal, according to State Power Investment Corporation, one of the country's top five electricity generation companies. The nuclear plants will help reduce carbon dioxide emissions by 180,000 tons — equivalent to 29,146 cars driven for a year — as well as indirect greenhouse gases such as nitrogen oxide and sulfur dioxide each heating season.
The coal-fired plants used to heat homes and power factories significantly contribute to China's carbon emissions and blanket cities with smog during winter months. However, with ambitions to hit peak carbon emissions by 2030 and carbon neutrality by 2060, the country is turning to other forms of clean energy, including nuclear power.
While transmitting heat from nuclear power plants to industrial sites has been a common practice, channeling nuclear heat to residential districts is still not widely used. Only a handful of countries such as Russia, Switzerland, Sweden, and some Eastern European countries have initiated nuclear-fueled district heating schemes.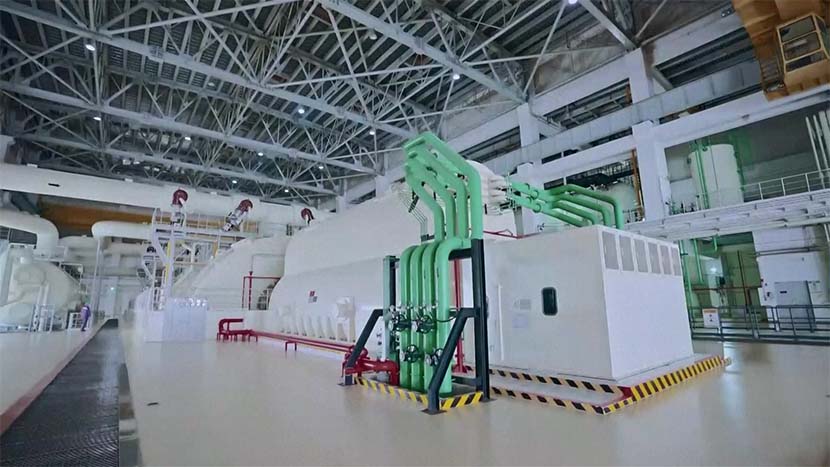 An interior view of the nuclear heating plant in Haiyang, Shandong province. People Visual
Haiyang's first nuclear power plant unit began operations in October 2018, with the second unit opening in January the following year. Since then, the two nuclear reactors have generated around 50 billion kilowatts of energy, according to media reports.
Currently, the city is only using energy from the first reactor for its heating project, which provided coverage for 7,000 residents when put into use in November 2019. The system went into hiatus last year, reportedly due to "technical failure," but resumed operations earlier this month with plans to heat the entire city of 200,000 residents.
Wu Fang, chairman of Shandong Nuclear Power Co. Ltd., which is responsible for the Haiyang plants, told domestic media that water used to cool down the nuclear reactor doesn't come in direct contact with the residential heating pipe networks, addressing concerns over possible nuclear radiation contamination. Instead, heat produced in the plants is fed to an off-site heat exchange station, where heated water flows through municipal heating pipes.
"This is only a heat transfer process," Wu said. "There is no exchange of materials such as water. We have ensured it is clean and safe heating for users."
China currently has 51 nuclear reactors — compared with 94 in the United States and 56 in France — and is one of the world's largest producers of nuclear power, ranking third globally, both in total nuclear power capacity installed and electricity generation, according to the International Atomic Agency.
To mitigate climate change, China has been actively boosting the share of non-fossil fuels — including renewables and nuclear energy — in the country's national energy mix. It plans to use 25% of cleaner forms of energy by 2030, compared with just over 15% in 2019.
Haiyang's push for nuclear heating comes amid power shortages in many parts of the country due to an imbalance in the coal market and the push to reduce carbon emissions. The city's project alone is estimated to reduce power consumption by 9 million kilowatts each winter, according to local media.
Wei Hanyang, a power market analyst at Bloomberg New Energy, told China Daily that the Haiyang plant is the first commercial attempt in the country to supply heat from nuclear power. He added that China is undergoing an approval process for a nuclear-based heat plant in the northeastern Heilongjiang province, which will be the first inland reactor not to be associated with electricity generation.
"Both efforts in Shandong and Heilongjiang underscore China's resolution to decarbonize its energy-intensive heating sector," Wei said.