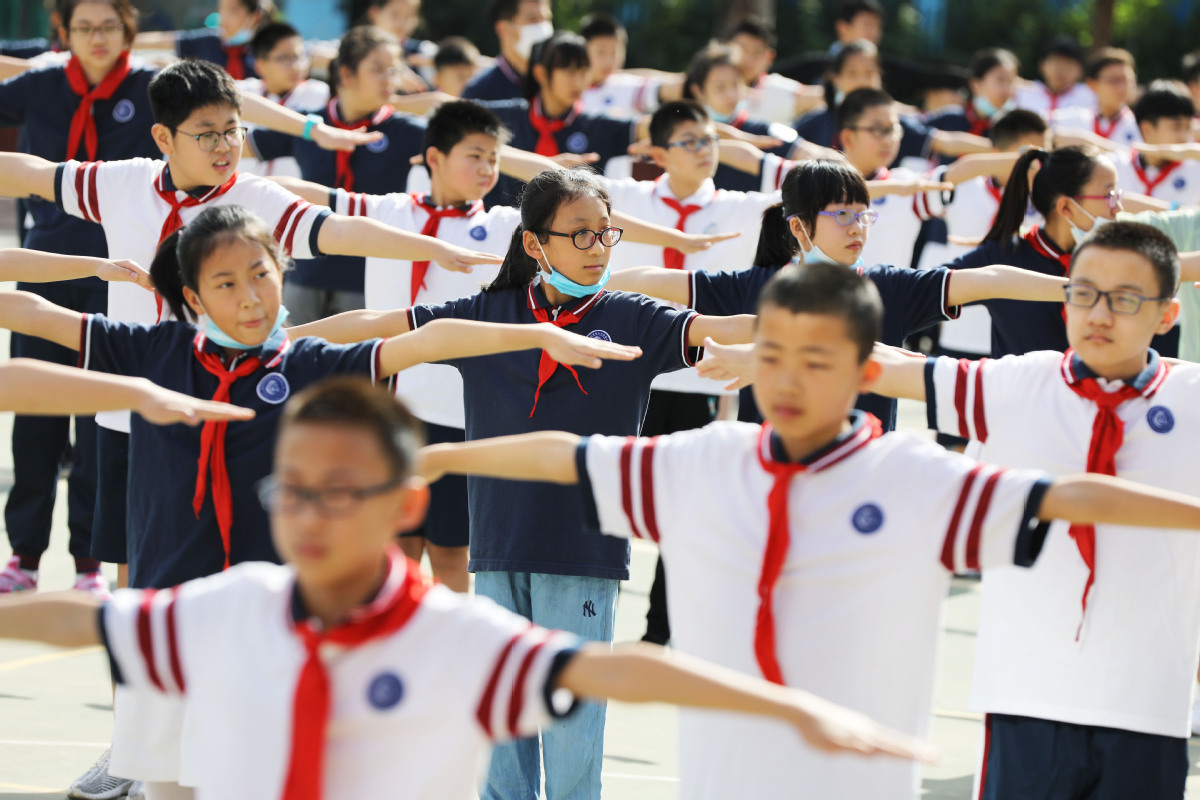 Students do exercises in the playground at the Primary School Affiliated to the University of International Business and Economics in Beijing, on June 1, 2020. [Photo by Zhu Xingxin/China Daily]
Chinese students are known for their diligence and perseverance, yet their hard work in and after school in many cases have not facilitated their all-round development. To address the problem, the recent government policy document called "Opinions on Further Reducing the Burden of Homework and Off-Campus Training for Compulsory Education Students" has set targets and requirements to upgrade school education and ban after-school private tutoring.
To begin with, the ban on private tutoring will help reduce the students' education burden, and save the local authorities the trouble of approving new "subject-based" off-campus tutoring institutions targeting grade 1 to 9 (compulsory education) students. According to the document, all existing private tutorial and training institutions must convert into "nonprofit" organizations.
The policy document also aims to reduce students' learning burden at home by limiting the amount of homework. Schoolteachers have been asked to assign no homework for grade 1-2 students. The grade 3-6 students should not be made to spend more than 60 minutes to complete their homework, and the middle school students not more than 90 minutes.
In addition, primary and secondary schools will offer day care services to students during holidays, so that parents don't have to arrange for special classes for them during summer and winter vacations.
Also, the policy will help promote equality in the education sector. Affluent families used to spend a lot of money on private tutoring and other after-school classes to ensure their children excelled in competitive examinations, such as the senior high school entrance examination and college entrance examination. Now all children will get to attend extended on-campus classes for both academic subjects and extra-curricular activities to prepare for such exams. Quality online learning resources, too, will be accessible to all the students on selected platforms.
The policy emphasizes the importance of diagnostic and analytical functions of homework and curriculum knowledge instead of rote learning. As a result, more studies will be carried out to improve the quality of homework. And by tasking the schools with providing more non-academic education classes for students, the policy will integrate academic education with extra-curriculum activities in order to facilitate students' all-round development.
But the campaign to reduce students' education burden has prompted many to ask whether this signals the end of the private tutoring sector? Can students still get learning support if they need it?
The private tutoring institutions will get new business opportunities if they change their roles. The potential demand for arts-related education is high. In fact, students can avail of free after-class tutoring in their own schools without paying huge amounts of money to private tutoring agencies, and get special tutoring services at a more moderate rate as the existing companies become nonprofit organizations.
Indeed, learning is a process of cognitive development and character building. Private tutoring institutions can help students improve their performance, but they cannot foster the passion for seeking knowledge and self-discipline among students, which are the key factors that determine success in life.
To excel in any trade or occupation, a person needs to learn continuously. This is especially true for the future given the fast-changing global realities and the pace at which people are changing jobs nowadays. In fact, the International Labor Organization has said that almost all the workers need "re-skilling" or "up-skilling". Therefore, it is essential to not only impart the foundational knowledge and skills, but also to kindle and maintain children's passion for lifelong learning.
By relieving students of the excessive education burden, which undermines or even kills their interest and passion in perpetual learning, and helping private tutoring institutions to meet people's need for "re-skilling" and "up-skilling", the policy will help China build an inclusive and quality learning society.
(Wang Yan, an associate research fellow at the Beijing Foreign Studies University.The views don't necessarily reflect those of China Daily.)