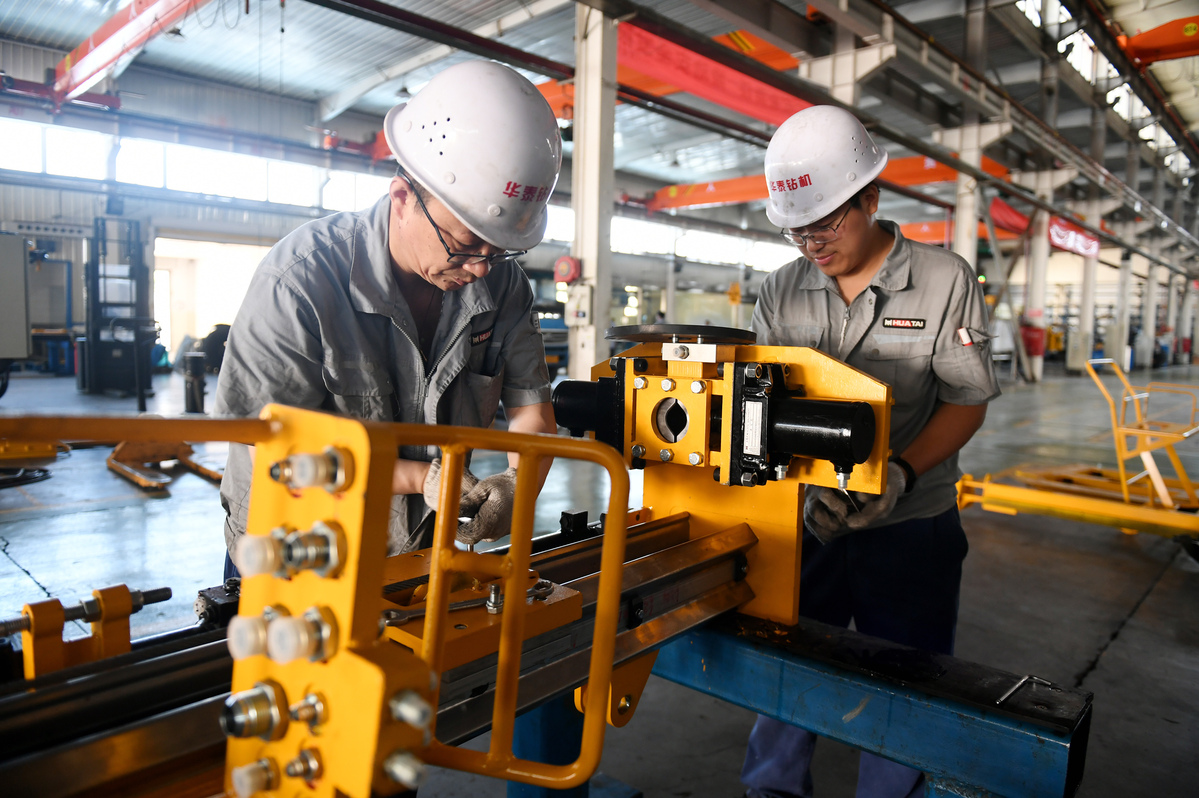 Employees work on the production line of drills at a machinery manufacturer in Xuanhua, Hebei province. The local government has been supporting the development of drill manufacturing firms. [Photo by Chen Xiaodong/For Chna Daily]
Measures rolled out to address high production costs, rapidly rising commodity prices
Consistent, steady policy support for China's smaller business communities has been and will continue to be notably essential and necessary for the country's economic recovery from the impact of COVID-19, industry experts and business owners said on Sunday.
The country's latest move to further back up small and micro businesses came on Wednesday, as the State Council's executive meeting announced a raft of policies to intensify support for smaller business communities.
Well-calibrated support for smaller businesses is a prominent feature in China's policy mix coping with the pandemic's impact, including tax exemption and inclusive loans. Experts and businessmen believe such support has been timely, essential and effective.
"Support for small businesses needs to be consistent and intensified. They are the most vulnerable groups amid the COVID-19 impact. Yet they are also the country's leading job providers, a strong driving force toward stable employment and boosting technological innovation and upgrading," said Shi Yinghua, a professor at the Chinese Academy of Fiscal Sciences.
Figures from the National Bureau of Statistics showed the purchasing managers' index (PMI) for China's manufacturing and services both edged down in August. In particular, the PMI for small businesses came in at only 48.2 percent.
Shi noted that since this year, due to higher production and operating costs caused by a rally in commodity prices, difficulties facing smaller businesses are rising, with many of them having "yet to regain their footing".
The State Council's executive meeting on Wednesday decided on greater support to smaller businesses. In particular, the re-lending quota for small firms will be increased by another 300 billion yuan ($46.5 billion) this year. Incentives will also be given to local banks in issuing loans to micro and small enterprises and self-employed individuals.
Banks will also be encouraged to grant more inclusive credit-based loans to micro and small enterprises. A risk compensation mechanism for the national financing guarantee fund will be put in place to support institutions in providing guarantees to micro and small enterprises that lack collateral or credit records.
Li Ke'aobo, deputy director of the Academic Center for Chinese Economic Practice and Thinking at Tsinghua University, said financing woes have always been the most prominent hurdle hampering the development of smaller and micro businesses, as they mostly lack sufficient collateral required for bank loans.
"The risk compensation mechanism for the national financing guarantee fund is critically important and it touches on some of the root causes of the financing woes small businesses have long been facing. It will work timely to compensate their status of lacking collateral and credit records, and make commercial banks more willing, ready and confident in lending," he said.
Special local government bonds will be harnessed to expand effective investment. Policy reserves will be strengthened in line with the changing international landscape and the need for developing the real economy, according to Wednesday's meeting statement. Follow-up policies will be studied and introduced as needed upon expiration of some policies benefiting enterprises.
Shi said issuing of local government bonds is expected to be accelerated in the coming months in an effort to catalyze effective investment, thus providing conducive conditions for smaller businesses.
"As many smaller businesses are yet to fully recover, consistent policy incentives and reserves will send a clear signal to shore up market sentiment and keep market expectations stable," Shi said.
Wednesday's meeting noted that efforts will be intensified to deepen reform of government functions, improve the business environment and lower institutional transaction costs. Efforts will be made to protect property rights and intellectual property rights to safeguard fair competition and shore up confidence in development.
In an earlier note, Robin Xing, chief China economist at Morgan Stanley, said such efforts will help "promote and sustain vigor for smaller businesses despite uncertainties from the pandemic".
Xu Song, founder of a photography studio in Qingdao, Shandong province, whose clients are mostly hotels and cafeterias, has made his own efforts to cope with the pandemic situation.
His firm was one among millions of micro firms in China. As he was in the services industry last year when the hit from COVID-19 to the economy was most pronounced, Xu said he and his firm had some "really tough times". He was forced to shift some of his full-time employees to having them flexibly employed by the studio. This year, he said with the country's economy posting a robust recovery, his business is bouncing back strongly.
On the policy front, he expects a more level-playing field to be formulated so micro firms such as his own will have more market opportunities