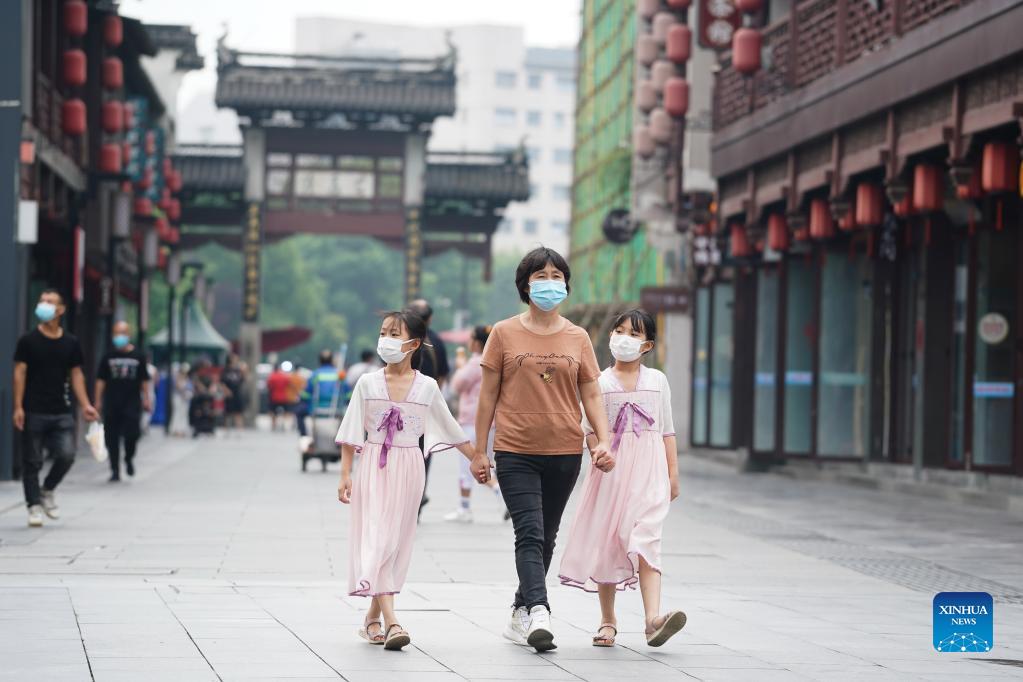 People tour the Fuzi (Confucius) Temple scenic area in Nanjing, East China's Jiangsu province, Aug 27, 2021. [Photo/Xinhua]
Central authorities have gradually adjusted restrictions on domestic tourism now that the recent resurgence of COVID-19 outbreaks in China has been brought well under control.
The Ministry of Culture and Tourism released a guideline on travel agency management on Monday that said travel agencies can resume booking air tickets and hotels, as well as organizing cross-provincial group tours once all areas in their province are at low risk of infection.
The ministry said travel agencies must ensure that none of their travelers are bound for areas with medium or high infection risks. Also, travel agencies should cancel or change group tours once the destination or departure site is listed as being of medium or high risk.
Small group tours are encouraged in the guideline, and mass gatherings should be avoided.
According to the guideline, agencies should collect travelers' real names and health conditions, and check their health codes before the trip. Travelers' personal information should be kept after trips in case any administrative checks are needed for epidemic control purposes.
Before the ministry's guideline, some provinces and cities had already gradually resumed cross-provincial tours.
For example, the Sichuan Provincial Department of Culture and Tourism said that its travel agencies could resume cross-provincial group tours on Aug 22.Travel agencies in Guangdong province resumed similar services on Aug 24.
On Monday, the Zhejiang Association of Travel Services released a notice that said travel agencies were allowed to organize group tours to provinces with low risk of infection.
Lvmama, an online travel agency, said that with work to control the COVID-19 epidemic normalized, it will do its best to meet travelers' demands while securing their health and safety.
It said that users of its platform remain passionate about travel, and consultations and reservations for short-distance tours have grown recently. It said it is preparing for possible travel booms during the Mid-Autumn Festival this month and the weeklong National Day holiday early next month.
Zhangjiajie in Hunan province, a hot spot of tourism that was hit hard by the recent COVID-19 outbreak when infections were linked to a theatrical performance at one of its popular scenic areas, announced that it will welcome tourists by cutting entrance fees and shuttle bus fares by half at its major attractions for a month, while implementing strict epidemic control methods.