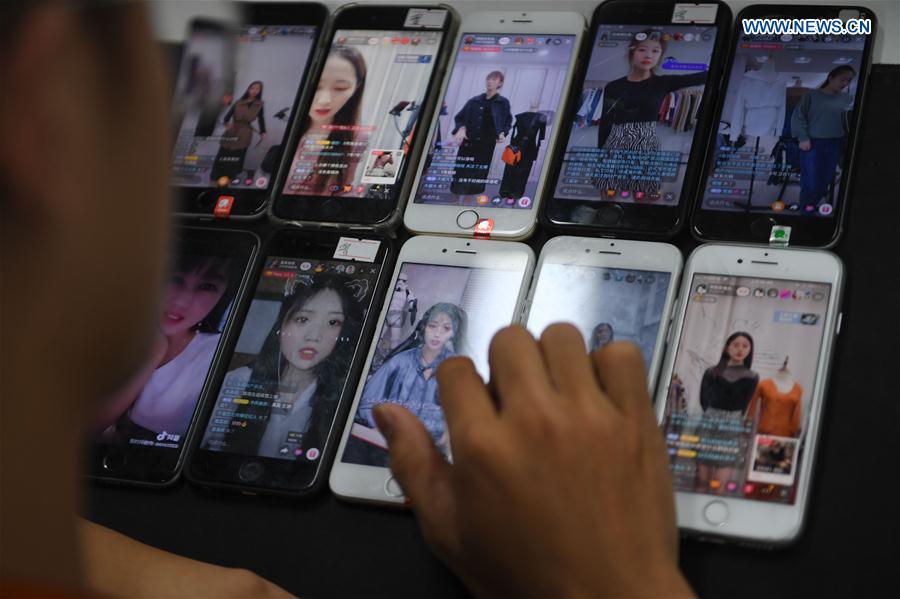 An HR staff member checks candidates as the owner hires online broadcasters at a livestreaming e-commerce base in Shishi, East China's Fujian province, Aug 26, 2020. [Photo/Xinhua]
The emergence and growth of flexible employment is an inevitable result of economic development and technological revolution, and it is changing the traditional job market, experts said.
According to the Ministry of Human Resources and Social Security, there are about 200 million people working flexible jobs, with food deliverymen accounting for about 7.7 million of the total.
Hiring flexible employees has also become a cost-effective option for companies. The China Development Report on Flexible Employment by the Renmin University of China and the Renrui Talent Group in December shows that last year, 55.6 percent of employees hired by China's companies were flexible workers, up 11 percent year-on-year.
Pang Shi, a researcher and deputy director of the employment and entrepreneurship department at the Chinese Academy of Personnel Science, said that though flexible employment has some elements in common with traditional jobs, it does have distinctive traits.
"People get orders from different platforms and offer labor, skills or products to customers. They get jobs, or orders actually, but not from employers," she said. "Workers enjoy higher flexibility in working time and places."
"Also, payment is calculated in various ways. For example, livestream hosts get salaries based on audience ratings, while food deliveryman earn wages from commissions they get from each order," she said. "A flexible worker's labor relationship with an employer is different from a traditional working relationship, as few of them sign contracts."
Chen Lixiang, vice-dean of Peking University's China Institute for Occupation Research, said people have emphasized greater work flexibility in recent years, altering the concept of what it means to have a happy life.
"They wish to arrange work and time more freely, especially the younger generation who appreciate the quality of life and value of labor," he said.
Pang said that flexible employment has benefited society by meeting the work demands of some disadvantaged groups, such as the disabled. Companies can also lower human resources costs by hiring flexible workers.
However, ambiguous labor relationships, lack of social security and inadequate supervision have hindered the realization of flexible workers' rights.
"The problem cannot be fixed overnight. It takes time, and the government needs to explore a mechanism to solve it," Chen said, adding that a guideline jointly released earlier last month by eight central government departments is a step in the right direction.
He said that neither the new guideline nor any of the previous measures carried out to help flexible workers win more working rights were meant to hamper the development of the shared economy and flexible employment, but rather to underscore their advantages and attract laborers by resolving issues hindering these rights.
"The newly released guideline aims to promote better and higher-quality employment, also better development of the nation's economy," he added.