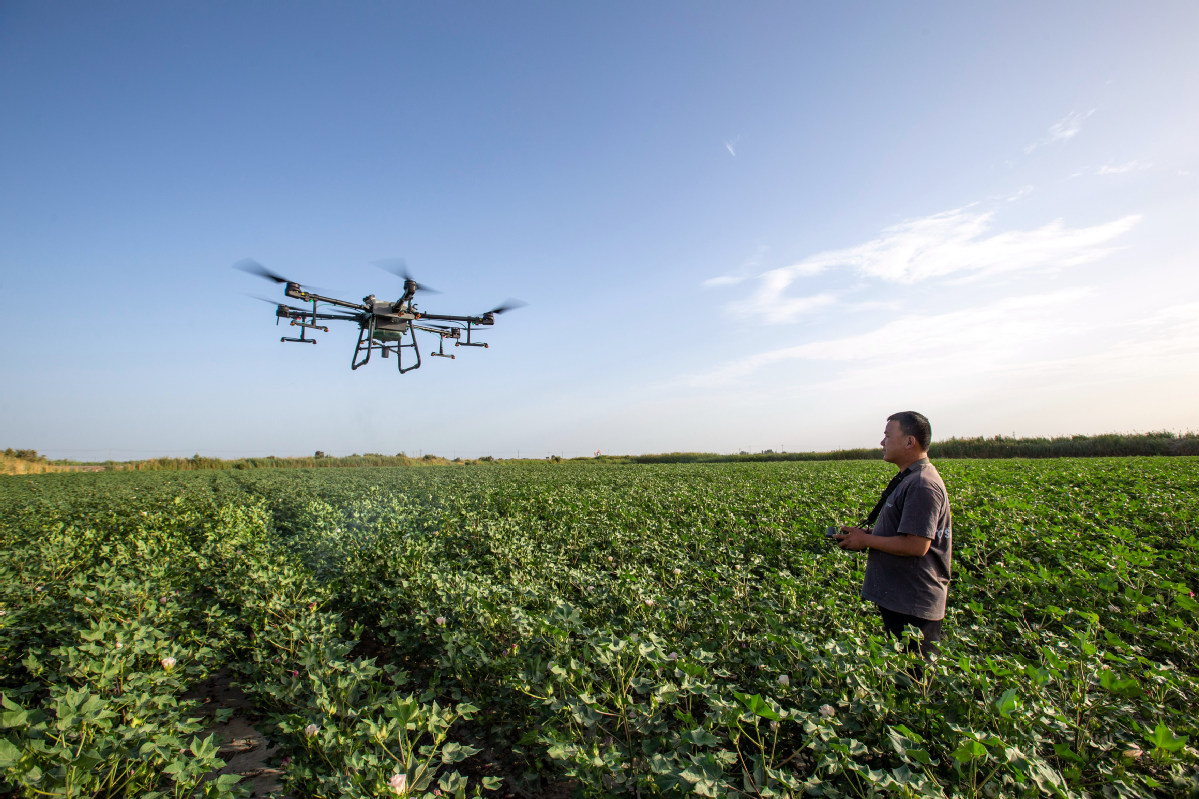 A farmer uses an aerial drone to spray pesticide in a cotton field in Kuqa county, Xinjiang Uygur autonomous region, on July 22. YUAN HUANHUAN/FOR CHINA DAILY
Farmer Ahat Azmat looks at his cotton fields growing under a wide summer sky and has reason to be happy.
"The sun is strong, and there is ample water. We've all the signs of a bumper crop this year," said Ahat, 40.
His optimism and gratitude for the upcoming harvest extend beyond the elements. Like many other cotton growers in Northwest China's Xinjiang Uygur autonomous region, Ahat is benefiting from the latest government support and upgrades in the pillar industry, ranging from cooperative incentives to high-tech machinery, to allow more ethnic minority communities to share in the country's growth and development.
Ahat himself placed his 2-hectare plot under a leading co-op in Shaya county, Aksu prefecture, four years ago. Lying at the northern fringe of the Taklimakan Desert, the county is well-suited for growing cotton within about 133,300 hectares of land with water supplied by the major Tarim River.
Most recently, investments totaling 1.26 billion yuan ($194.5 million), including central government support, have fueled Shaya's high-technology agricultural upgrades such as radar-monitoring of irrigation systems, fertilizer-spraying drones and cotton-picking machines covering more than 33,300 hectares and involving over 22,000 households.
Concrete canals have helped the county cut its water usage for farming by nearly half to 450 cubic meters per mu, equal to 0.067-hectare plot, while the drones require just one-eighth of the labor for manual spraying, local official Adil Abliz said.
The benefits of mechanization have been particularly impressive, he said, with each of the county's 250 cotton-harvesting machines able to reap up to 160 tons of cotton a day through 27 hectares, compared with a maximum of 100 kg picked by one person in a 0.02-hectare plot.
For Ahat Azmat, all that means saving on hired labor costs toward higher yields, with about 1,200 yuan raked in from every mu a month, or a nearly tenfold increase since he joined the co-op. His younger brother and sister, who both had to help out with picking cotton previously, are also able to find stable work and contribute further to the family income with about 4,000 yuan a month each, while his parents can rear cattle and other livestock for extra income.
"They have more leisure time now. All of us in the community, our lives have improved tremendously," he said.
Xinjiang is China's largest cotton-growing area. The region's cotton output covered 2.5 million hectares and hit more than 5 mil-lion metric tons last year, accounting for nearly 90 percent of the country's total, according to the National Bureau of Statistics.
Strong demand is continuing to fuel upgrades in the major sector, with China's export volume of cotton textiles and garments alone hitting $19.7 billion in the first four months of this year, a year-on-year increase of 44 percent, according to the latest industry figures.
In Tieremu township of Kashgar, another major cotton-growing prefecture in southern Xinjiang, a similar high-tech rollout has mechanized more than 70 percent of farming operations.
That includes more than 1,000 drones and over 100 cotton-picking machines, working amid the township's 7,000 hectares of cotton fields, said township head Abduali Yasen, 34.
"Productivity has really increased, with about a 30 percent rise in household incomes by the year on average. Cotton-farming can see net income from each mu plot hit more than 2,300 yuan," Abduali said.
The developments raise high hopes of a rich harvest this year, with more farmers realizing that cotton is a major "cash crop", he said.
Adil Mehmetmin, who heads a farming co-op team of 68 people in Tieremu, is another beneficiary of the progress being shared among ethnic minority communities. The 29-year-old said his household of seven people, including his wife who works as a teacher, enjoys a total annual income of more than 100,000 yuan, riding on the township's cotton-farming mechanization and other upgrades.
"We wouldn't have expected this just a few decades ago. Life is getting better. Incomes are rising and we all have cars, apartments and household appliances thanks to the incentives, subsidies and support," Adil said.
"Who doesn't want to make money, do good and prosper?"
Powering up
At the Shaya Boshiran Intelligent Agricultural Machinery Co Ltd facility, about 300 employees work on a 14.7-hectare site to build the cotton-picking and baling machines that are making a life-changing difference for south Xinjiang farmers as they rely less on manual labor to reap the rewards of greater productivity and progress.
The company sold more than 800 farming machines in the past three years to take up a major share of the regional market.
One of its bestselling models, a diesel-powered unit costing about 2.18 million yuan, can work through 13.3 hectares of cotton fields, 16 hours a day. That is equivalent to the work of about 600 hired manual pickers, who can add about 1,000 yuan each in farmers' labor costs for every mu they cover by hand.
"Our machines are a game-changer for the industry," the facility's deputy head Qiu Haiquan said.
Boshiran employee Abduwali Yasen, 23, leads a team of 30 colleagues in building, inspecting and maintaining the machines after his two years on the job. He also regularly trains farmers to use the cotton-harvesters.
"I am proud to help build these machines and teach others how to use them," he said.
In Urumqi, the regional capital, China Railway Construction Heavy Industry Xinjiang Co Ltd, another leader in the sector, rolled out an "intelligent high-end agricultural machinery and equipment" drive at its 14.3-hectare site with more than 160 employees, promising to lift the industry to the next level.
Xinjiang's cotton industry is poised to take global pole position with its mechanization drive, amid the high expectations for this year's yield, the site's general manager Yuan Wei said.
Its cotton harvester-balers, which boast location tracking and operational monitoring links to a central command center for safety and maintenance purposes, will leverage the region's expansive geographical and other advantages to launch automated, self-driving capabilities by this year toward the "peak of agricultural machinery technology", he said.
Wu Tao, deputy director of the company's electrical and intelligent research and design institute, said his team of 22 members, mostly in their 20s, has mastered about 80 percent of the technology required for the state-of-art move after three months of research and development.
"We're working on integrating our systems better," said Wu, 37. "This will put us at the forefront of the industry, further raising productivity and efficiency toward progress and the future," he said.