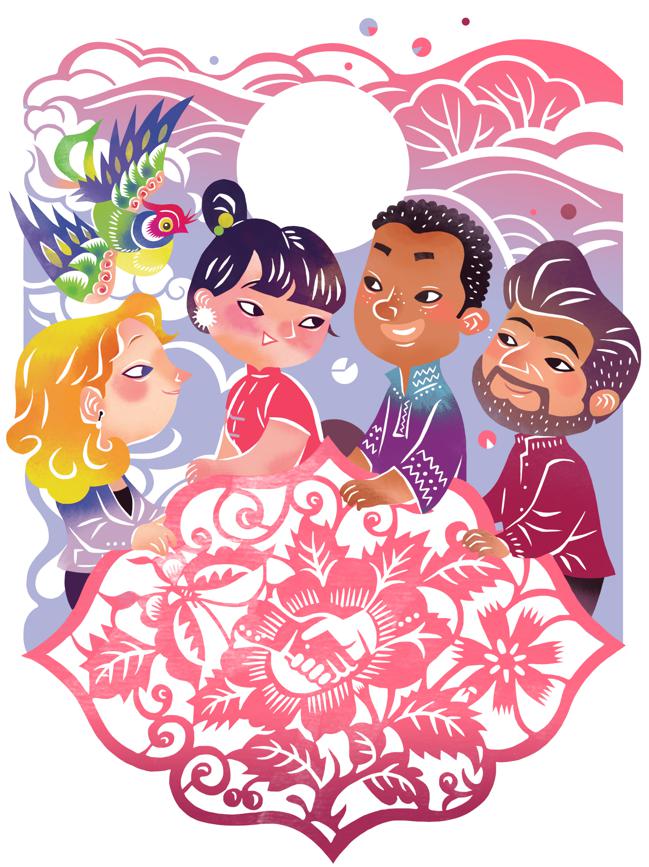 LI MIN/CHINA DAILY
This year marks the 20th anniversary of China's official accession to the World Trade Organization. Since then, the breadth and depth of China's economic integration with the world have greatly increased, which has strongly promoted the rapid growth of China's overall economic strength and the upgrading of its economic structure.
Statistics show that from 2001 to 2019, China's total imports and exports of goods increased from $510 billion to $4.58 trillion, and its share of the total global imports and exports of goods rose from 4.04 percent to 12 percent. During the same period, China's GDP increased from $1.34 trillion to $14.34 trillion, and its share of global GDP swelled from 4.01 percent to 16.34 percent.
In 2010, China surpassed Japan to become the world's second-largest economy. In 2013, China became the largest global trader of goods. In 2014, China's total trade in services ranked second in the world. In 2015, China became a net capital exporter for the first time, overtaking Japan to become the world's second-largest outward investor, with outbound direct investment reaching $145.67 billion.
Looking back at the history of China's opening up, we can see that the country has progressively expanded the areas of trade openness while continuously reducing its tariff level. China's average import duty rate decreased from about 42 percent in 1992 to 17 percent in 1997, a drop of 25 percentage points. After joining the WTO, China fulfilled its commitment to reduce tariffs on goods, and the overall tariff level was further reduced from 15.3 percent in 2001 to 9.8 percent in 2010.
In addition, China has continued to open up its service market. By 2007, among the 160 sub-divisions under the 12 major service sectors classified by the WTO, China had fulfilled its commitment to open up 100 sub-divisions in nine major sectors. In 2010, China's service industry attracted more foreign direct investment than manufacturing for the first time. In 2020, the actual use of foreign capital by China's service industry reached 776.77 billion yuan ($121.49 billion), accounting for 77.7 percent of the total amount of foreign investment actually absorbed that year.
With the formation of comprehensive and high-level opening up, China's position and role in the world economic system has also been transformed from a participant of the international division of labor to an initiator and pioneer of international rules.
The process of gradual opening up embodies the wisdom of China, as a large developing country, in properly handling the relationship between opening-up, stability and development. It also creates favorable conditions for ensuring the steady advancement of various reforms in China. In addition, it provides referential experience for other developing countries on how to protect their national interests and optimize their opening-up paths.
As a supplement to incremental reforms, gradual opening up has brought foreign capital and domestic private enterprises together, which not only injected new vitality into the economic development at the beginning of reform and opening up, but also created a kind of competitive pressure for promoting the transformation of State-owned and other public-owned enterprises.
In the early 1990s, with the drastic changes in the Soviet Union and Eastern Europe, economic liberalization swept across the world. However, by not adopting a radical reform package, China successfully completed the restructuring of State-owned enterprises before formally joining the WTO and avoided any shock to domestic enterprises brought about by too hasty opening up. This has effectively reduced the resistance to reform and created favorable domestic conditions for ensuring the stability of the economic and political order and the steady progress of the reform plan.
Gradual opening up has also been a rational choice for China to achieve mutual benefit and win-win results through economic and trade cooperation with other countries.
There is severe imbalance in the global economy, especially between the developed and developing countries, in terms of economic development and marketization. Under such circumstances, gradual opening up has allowed China to integrate into the world economic system by undertaking international industrial transfer, and obtain necessary funds, technology and market access for its own economic and industrial development. On the other hand, the gradual opening-up process has effectively protected domestic industries, especially the basic and strategic industries critical to the national economy, people's livelihoods and economic security, from the foreign competitors. By gradually cultivating and building its own modern industrial system, China has successfully avoided the "specialization trap "that many developing countries suffered in the international division of labor.
In the process of gradual opening up, China has played a special role as the world's factory and resource hub. Taking the competitive advantages created by its demographic dividend and economies of scale, China has successfully connected the consumer markets of developed countries with the raw materials markets of developing countries. It has not only played a pivotal role in the global industrial chain, supply chain and value chain, but also provided the global market with industrial products of high quality and competitive price.
After the 2008 financial crisis, while developed countries were faced with economic restructuring, and the global economy was suffering a lack of growth momentum, China actively assumed the responsibilities of a major developing country, and launched the Belt and Road Initiative to promote international production capacity cooperation.
It was the first time in history that such an initiative on industrial connectivity and economic and trade cooperation was proposed by a developing country and mainly carried out between developing countries and countries in economic transition. The Belt and Road Initiative not only provides important infrastructure and public goods for regional economic development, but also new impetus for global economic recovery and new ideas, approaches and models for the opening up and cooperation of the world economy.
(Liu Yanhong, associate professor of the School of Economics and a research fellow of the Center for Public Policy Studies at the University of Chinese Academy of Social Sciences. The author contributed this article to China Watch, a think tank powered by China Daily.The views do not necessarily reflect those of this platform.)