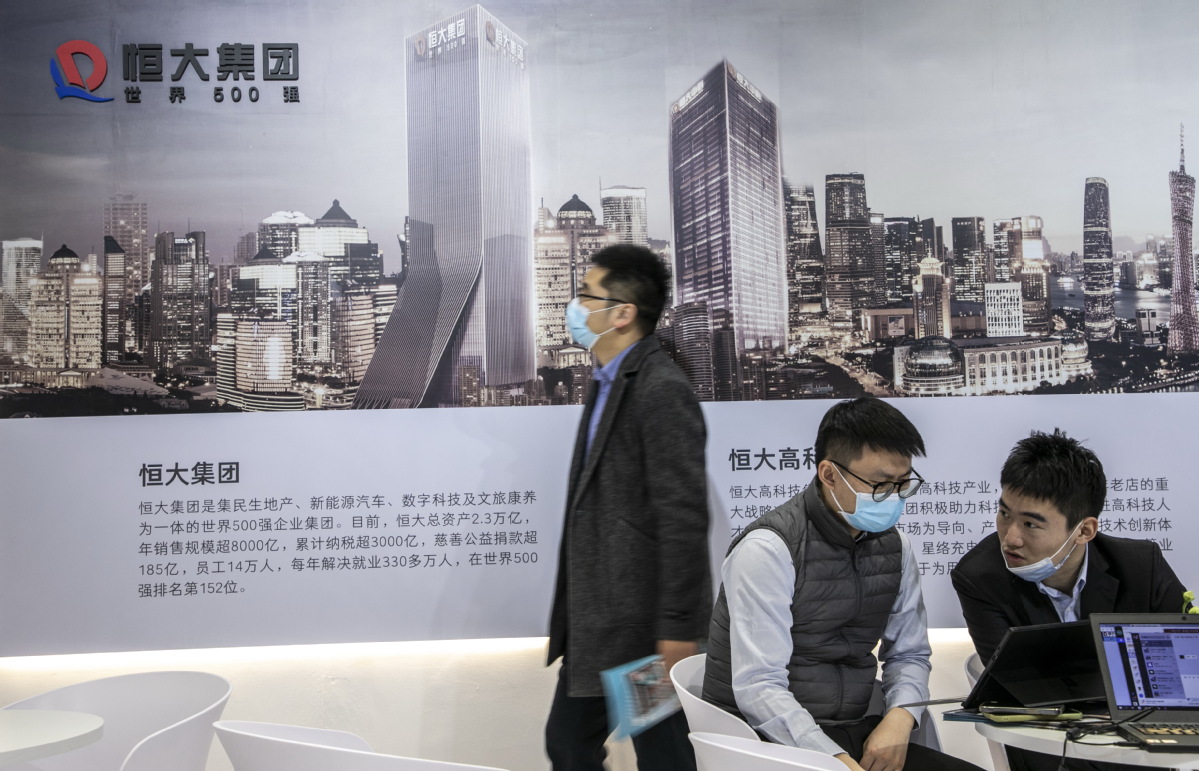 China Evergrande Group's booth is seen during a high-tech expo in Shanghai in March. [Photo/CHINA DAILY]
Conglomerate sells stakes of over 10 billion yuan in biz to free up liquidity
Real estate, once the cash cow that built China Evergrande Group, is becoming a drag on its development, the group's interim report showed.
While the company is eager to sell off some of its businesses, the nation's pursuit of letting all Chinese have a home to live in is creating new opportunities for all developers, industry experts said.
Evergrande China reported its revenue declined 16.5 percent year-on-year to 222.69 billion yuan ($34.45 billion) in the first half, with a drop of 28.87 percent in net profit that totaled 10.5 billion yuan during the same period, the listed company announced on Tuesday.
The filing said the group's property business posted a loss of 4.1 billion yuan in the first six months, and another loss of 4.9 billion yuan came from its electric car businesses.
Industry experts attributed the fall in profit to the massive promotions launched by Evergrande since February 2020 for capital recovery.
The promotions, while eroding the company's profitability, have eased the pressure for the debt-laden company with new cash flows. In comparison with the end of last year, Evergrande has successfully lowered its total borrowings ratio under 100 percent, said Pan Hao, a senior analyst with the Beike Research Institute.
But the company still falls short on three red lines, including its debt/asset ratio.
To free up liquidity, Evergrande has sold more than 10 billion yuan worth of stakes in businesses including an internet-powered streaming media company, banking, financial services, water as well as property projects, the Securities Daily reported.
Amid concerns over a liquidity crunch, the listed companies of China Evergrande Group announced early in August that it was in discussions with potential independent investors to sell its stake in its electric car and property management units.
Attempts of seeking payment extensions and inviting investors and shareholders, are also underway. But those efforts have yet to yield any remarkable result.
Public information showed China Evergrande has 214 million square meters of gross floor area under development, as well as 146 regeneration projects as of June.
In contrast with the parent company's struggles, Evergrande Property Services was one of the few bright spots in the group with both revenue and net profit surging higher by up to 70 percent.
The difficulties China Evergrande is facing may shed any light on other Chinese real estate developers who must likewise abide by the principle that "houses are for living in, not for speculation".
Meanwhile, whether the Ministry of Housing and Urban-Rural Development's latest statement on sticking to the central government's position to realize the goal of all people having a home indicates the way out for China's property companies remains to be seen.
Special focus would be paid toward the development of government-subsidized rental housing during the 14th Five-Year Plan period (2021-25).
In the meantime, improvements would be made in the integrity of the housing security system as well as increasing the supply of government-subsidized housing to let the Chinese have their proper place to live in, Wang Menghui, minister of housing and urban-rural development, said at a news conference on Tuesday.
"The achievements made in the past two years have proved the long-term property mechanism is precise and effective, and we hope the real estate market would further promote the sector's stable and healthy development in years to come," said Chen Wenjing, deputy director of research with the China Index Academy.
As property is encouraged to return to their original function, letting the Chinese have a proper place to live in will be the guiding principle for the nation that is heading for common prosperity, Chen added.
"Particularly in the area of resolving the living problems for youth. Being an important power in driving urban development and the nation's growth, a city with competitiveness should solve young people's living problems properly," said Yan Yuejin, director of the Shanghai-based E-house China Research and Development Institution.
Many new policies can be expected in this regard, and players involved in the real estate sector can exploit relevant products in tapping into the demand of the young generation, such as rental housing and government subsidized residential units, Yan said.