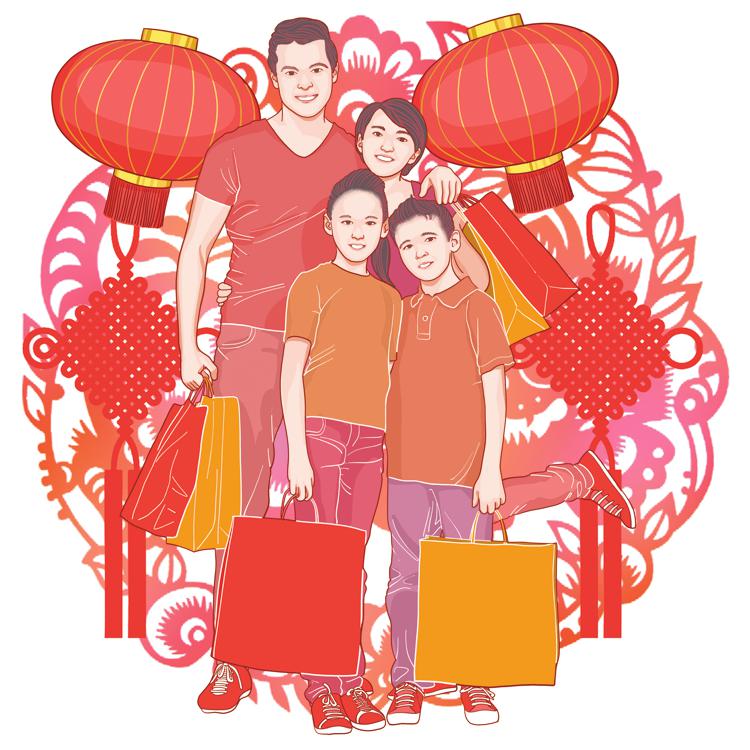 JIN DING/CHINA DAILY
The Chinese people are set to welcome the third Lunar New Year since the outbreak of the COVID-19 pandemic, which will again be "abnormal" in more ways than one.
True, China's consumption and overall economic data in 2021 were much better than expected, with the total retail of consumer goods adding up to 44.1 trillion yuan ($7.04 trillion), up 12.5 percent year-on-year and significantly higher than in 2019, but sporadic infection clusters mean muted celebrations and cautious consumption.
In a world shaken to the core by the novel coronavirus, the Chinese economy stood out in 2021 because China managed to largely contain the pandemic. But despite all the positives, the pandemic has affected economic activities and consumer behaviors.
Consumption is inevitable to sustainable and healthy development of any economy, especially the Chinese economy. In China, final consumption expenditure contributed 85.3 percent to GDP growth in the fourth quarter, with the cumulative value for the whole year being 65.4 percent. Which means consumption growth is the main force driving China's economic growth, and "holiday consumption" is, to some degree, the "top priority" in certain fields and cases.
Just days before Spring Festival, the National Development and Reform Commission issued the "Notice on Promoting Consumption in the Near Future", which says concerted efforts should be made to boost consumption in 10 areas including catering, online shopping, and ice and snow sports.
So businesses should seek to achieve growth targets in the future by using the opportunities available to full advantage and keeping in mind the government's plan to boost holiday consumption. To begin with, governments at the grassroots level should take effective measures to prevent COVID-19 infections while increasing spending to boost economic vitality. For that, however, the local governments have to work out precise and targeted anti-pandemic measures.
Businesses will find it difficult to recover from the impacts of the pandemic if they adopt the one-size-fits-all approach, but they should strictly follow COVID-19 protocols including making every customer scan the health QR code. This will help them ascertain a customer's health condition and whether he/she had come in contact with a COVID-19-positive person, and, if so, immediately report the matter to the health authorities, in order to reduce the risks of transmission.
Besides, government departments should provide businesses with some sort of guidance on new consumption features, and how to boost sales amid the pandemic including through online retail and joining an online platform.
The total retail sales of consumer goods increased 7.09 percent in 2021 compared with 2019, while online consumption of physical goods grew 26.8 percent, showing the resilience and commercial advantages of online business. It is important therefore that local governments guide businesses to access online platforms, and provide them with suggestions on operational models and help enterprises to acquaint themselves with the local business environment.
Yet businesses need to make efforts on their own, too, to become part of the online economy and widen their operational scope-for instance, they could raise the stocks of goods that are immune to pandemic shocks. As for travel agencies and other tourism-related businesses, they should consider venturing into diverse areas such as operating conducted tours around cities now that restrictions have been imposed on intercity and interprovincial travel.
Government departments and businesses should also make more efforts to improve the supply side, so as to create a more conducive condition for consumption. For example, to ensure supply, governments at different levels, should reduce interventions in normal production and business activities. Especially, the governments could consider issuing consumption coupons which local residents can use to buy consumer products during the Spring Festival and other holidays.
Businesses, on their part, should realize that infections can break out anywhere and at any time, so they should be prepared to deal with sudden emergencies, and seize the opportunities created through advertising to increase their revenue and profit.
Governments, enterprises and consumers have all gathered tons of experience in terms of society management, production and operation-and consumption patterns-during the two years of the pandemic including the Golden Week holidays and festivals, which they can analyze to find out ways to increase consumption.
The Chinese economy has remained stable and maintained its sustainable growth momentum despite the huge impact of the pandemic. Hopefully the pandemic will eventually go away with the winter. Consumption in services, which has remained stagnant during the pandemic, will boom in its spring, too.
Concrete and sustained efforts both from governments and businesses will help make consumption the new driver of growth.
(Zhou Xuezhi, an assistant research fellow at the Institute of World Economics and Politics, Chinese Academy of Social Sciences.The views don't necessarily represent those of China Daily.)