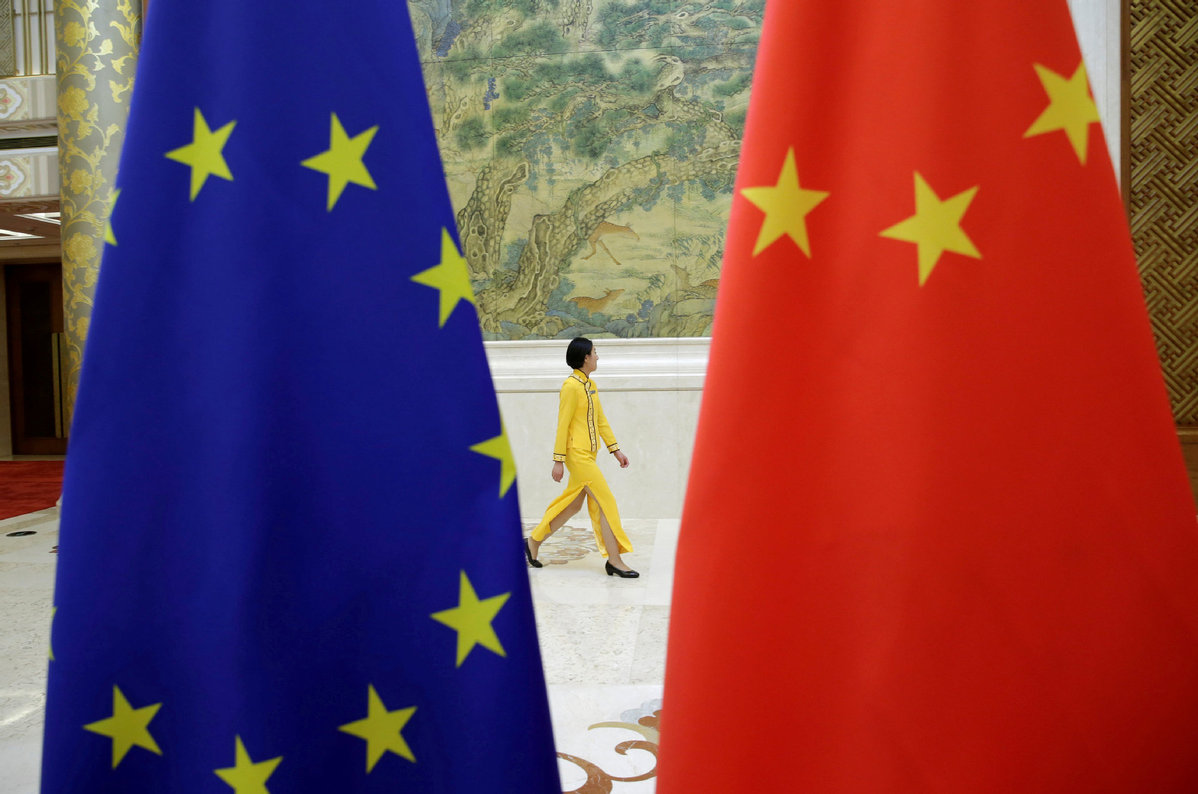 An attendant walks past EU and China flags ahead of the EU-China High-level Economic Dialogue at Diaoyutai State Guesthouse in Beijing, on June 25, 2018. [Photo/Agencies]
In Europe, we are impressed by the rapid expansion of China's digital economy since the beginning of the century and the emergence of global Chinese digital players. Today, China is perceived as a trendsetter in fields such as e-commerce, financial technology, artificial intelligence and robotics. Chinese companies have a major advantage over their European counterparts: the huge volume of big data generated by more than 1 billion internet users and their internet transactions.
However, this perception does not necessarily fully correspond to reality. According to a report by the China Academy of Information and Communications Technology in 2020, China's digital economy accounted for about 35 percent of its GDP compared with more than 60 percent for Germany, the United Kingdom and the United States, 40 percent for France, and about 20 percent for major emerging economies such as Brazil, India and South Africa.
Moreover, the degree of digitalization varies across China's provinces and sectors according to the income levels, reflecting their diverse stages of economic development. In Beijing and Shanghai, for example, the digital economy's scale was higher than France's while in north-central Gansu province it was only 20 percent of the provincial GDP.
An analysis of China's success story shows that digitalization in China has been supported by massive foreign direct investment, including by major US companies such as Apple and its subcontractors or global EU car manufacturers like Volkswagen which, for example, has also established a partnership with a Chinese battery maker. This trend is likely to continue over this decade, especially because the ecosystem established by the tech giants in China provides suppliers with instant access to a large pool of consumers.
China's success story shows that digitization is a global process, providing many opportunities for win-win cooperation between China and the European Union. Chinese-developed technologies and innovations are being increasingly adopted in Europe. For example, the quick response (QR) code-ization and mobile payments-something we used to see pervasively in China until a few years ago-are fast becoming the norm in the EU.
There is also huge potential for Chinese drones for last mile delivery and robots in restaurants, hotels and even in coffee shops in the EU. Meituan and Orionstar are already taking measures to cash in on this opportunity.
In the retail sector, we have seen a proliferation of new forms of vending and new models of online shopping in the Chinese market with the advent of automated services, which should prompt it to accelerate its digital transformation.
Take the livestreaming business model pioneered by livestreaming platforms Kuaishou and Douyin, as well as Alibaba's Taobao Live and JD Live. On the one hand, it boosts cross-border e-commerce through multi-channel networks, for example, Xinxuan Selection that makes access to foreign brands much easier for the Chinese people. On the other hand, it inspires many retailers in Europe to revolutionize their business model.
Yet issues related to data privacy and cybersecurity need to be properly tackled to further facilitate global trade and investment. In addition, the gatekeeper role of tech giants in the digital sector recently raised concerns over the impact of monopoly power on innovation and market stability, prompting policymakers and competition authorities to effect changes in the business models of the companies concerned.
Ensuring that borders are open for trade and investments and promoting the exchange of best practices and partnerships are key to boosting innovation in the global digital economy.
The author is president of ChinaEU. The views don't necessarily reflect those of China Daily.