China is the world's largest manufacturing economy. There are many heartbreaking stories of personal sacrifice in families all over China, as rural villagers went to work in cities, where they could earn more money. Children and the elderly were left behind; and the workers themselves had to cope with harsh working conditions away from home.
Over time, employers had to provide better wages and working conditions. China's policy was not to keep labor costs down but to increase productivity and for workers to earn more. The aim was to become a more sophisticated, higher wage economy. China's competitiveness is not based on remaining low wage, which is a lesson for other developing economies.
While migrant workers sent money home to care for their families, the government provided basic infrastructure and services all over the country, including schooling for children. The country's 97 percent literacy rate is another significant achievement for a country with such a huge population.
China's tertiary education system is also important. Besides famous institutions of learning, such as Tsinghua, Peking and Fudan universities, there are a large number of language, technical, vocational, computer science, design and art schools that help to fuel China's capabilities in many sectors.
The Chinese are almost all digitally enabled since there are over 1.5 billion smartphone subscriptions in the country. Indeed, China is already more advanced than many developed economies in its digital capabilities. Unsurprisingly, education plus internet connection help to unleash the people's enterprising spirit. About 84 percent of Chinese companies are private businesses.
Just think how many "systems" had to be developed in a fairly short time to cope with 40 years of rapid growth. Standards, laws, regulations, guidelines, management methods and operational practices for all sorts of new products and services had to be created. What started off as suboptimal gradually improved-and more will come.
China is one giant, fast-learning and fast-changing entity. By 2035, China aims to achieve "socialist modernization". What does this mean? The Chinese system overall will be quite well developed, GDP on a per capita basis will be higher, and day-today living for the Chinese people will see further improvements, such as in the quality of free basic healthcare under the country's social insurance system.
But a major problem is the environment. Rapid industrialization and urbanization created pollution and land degradation on a horrendous scale. Leaders acknowledged the damage and after some years of laying down the foundation, the Communist Party of China amended its Constitution in 2012 to introduce the concept of "ecological civilization" as a part of China's development. This led to a whole bevy of new laws and regulations to clean up the environment, and in 2018, China also embedded the concept into the national Constitution as a core mandate.
China is already seeing positive results in air quality and water quality, although cleaning up soil pollution will take more time. China's example in fighting pollution is another valuable experience for other economies.
A revolutionary pathway has now been set. The country has a date with destiny to achieve carbon neutrality before 2060.This means China will transform its industries through switching away from fossil fuels to using clean energy, while at the same time making everything much more resource efficient.
In parallel, China is deepening ecological and biodiversity restoration. There have been a range of past successes that have provided knowledge and experience. Impressive projects include the decades-long restoration of the famous Loess Plateau, the Great Green Wall reforestation project that spans half of North China, and the similar River Shelter Forest in the south. There are many more plans for the coming decade.
All in all, the Chinese experience has much to offer the world on development. China's successes provide valuable case studies for others. There is a range of South-South dialogues and diplomacy that doesn't get covered in Western media, presumably because those stories are considered not of interest to audiences in wealthy countries.
China can't expect praise and need not seek it. The results speak for themselves but it can be more skillful in putting out its stories and narratives externally. It must not sound like the bleat of a victim. It can also do without an ultra-nationalist tone since the China story can be a universal story of great receptivity to a diverse international audience.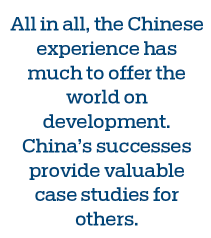 (CHRISTINE LOH, former undersecretary for environment and a legislative councilor in Hong Kong. She is also chief development strategist at the Institute for the Environment at the Hong Kong University of Science and Technology.
The author contributed this article to China Watch, a think tank powered by China Daily. The views do not necessarily reflect those of this platform.)